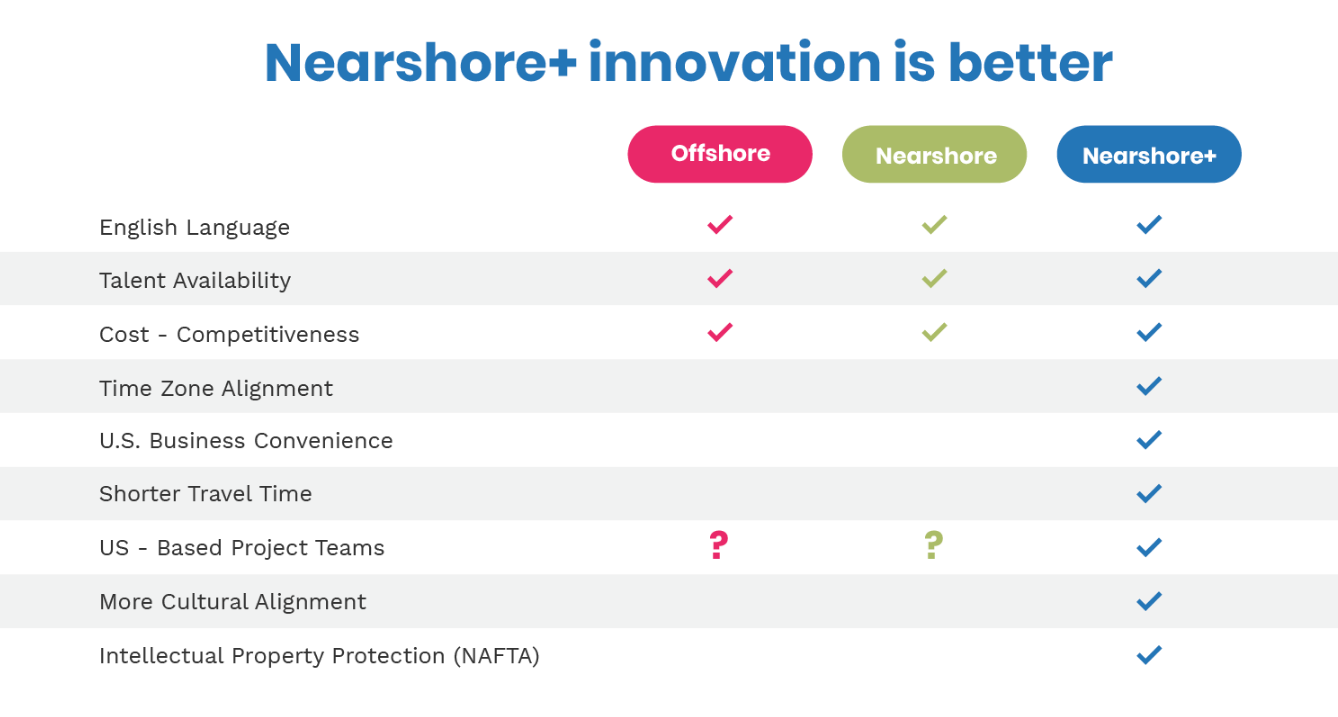 Now more than ever, companies are being driven to make better total value-based decisions that include factors such as:
Access to talent capacity,
The convenience of time zone,
The consistency of quality software,
Teaming collaboration
Improved communication
Years of experience and cultural alignment.
US-Based Management Team
While our delivery center is based in Guadalajara, most of our management team works out of Austin, which gives our customers more security in all business contracts.
Responsive & Agile Software Development Teams
Our offices in Guadalajara are in the Central Time Zone, which means that all stakeholders, from Management to Software Development & Support Teams as well as End Users, can collaborate in real time.
Team Building with Shorter Travel Time and similar time zones
Being just a few-hour flight from all major US cities with no more than one stop means your local team and extended team can easily travel for more face-to-face interactions, which build more trust and a sense of camaraderie in the teams.
Minimal Travel Restrictions
Thanks to NAFTA, professionals from Mexico have only minimal hurdles to clear when visiting offices in the U.S. for extended periods of time.
Legal and IP Protection through NAFTA
NAFTA provides increased protection of intellectual property rights. You can rest assured that sensitive proprietary information is protected.
Stronger Cultural Alignment
Mexico and the U.S. are not just located right next to each other. These two countries have quite a bit in common. All of our developers do not only speak English but they are also well-acquainted with American culture and American work ethics.
Learning How To Successfully Outsource
With both new organizations and established companies successfully leveraging outsourcing, how can you strategically use it to your advantage?
First, you must know what type of talent and resources your business lacks. Then, you need to master when and how to outsource software development projects.
Here are a few tips and examples of outsourcing to keep in mind:
Outsource functions critical to operations, not strategy. These may include app design, software engineering.
Determine the tasks essential to your business function over the short-term.

For example, if you need a clients portal built to help your customers find your products, you may want to outsource the project until you can afford in-house designers and developers.
Be efficient when establishing goals and timelines:

Having a team of near shore software development is not the same as working with a group in-house. You must be clear and upfront about your expectations, often through email, phone calls, and instant messaging. If you leave out a detail or go back and change project requirements, you could be wasting time and money.
Once you decide to outsource, you also need to create a design document to share with your internal team and outsource - nearshore development partner. This plan should have clear accountable milestones, testing requirements, and expectations for iterations.
Finding a reliable outsourcing partner is perhaps the most important task of all. Your provider should make you feel confident that they understand and are ready to manage the risks and expectations of the project.
They should also have the required talent to ensure your project comes to fruition.
Every organization big and small should be looking for a partner that has a portfolio of quality work, as well a reputation for providing results and documentation throughout the project.
They should also be willing to help shoulder project risks while being flexible enough to share common goals.
Nearshoring PLUS Outsourcing Model Pioneered by iTexico
In the last few years, leveraging nearshore outsourcing has become an invaluable tool for companies that want to grow quickly and scale smart. Outsourcing development projects to Mexico, in particular, provides businesses with access to top-tier talent at a lower cost than hiring a similarly skilled, US-based developer.
iTexico is an experienced software development outsourcing company with fast, accountable, and expert multidisciplinary software teams located in the central time zone in Mexico.
Our experience serving startup, growth, mid-market, and enterprise technology-driven companies makes us immediately ready to integrate with your team's culture, competencies, and quality requirements.
Nearshore Plus Outsourcing Related Topics