Nearshore Outsourcing of Digital Transformation
Digital Transformation Business Transformation Through Outsourced Nearshoring
In order to keep up with a rapidly changing and competitive landscape, digital transformation has become critical to the survival and growth of businesses across the globe. Unfortunately, the process of implementing a digital transformation strategy is easier said than done and varies in difficulty from industry to industry. However, as digital technologies disrupt the marketplace for tech services, nearshore outsourcing has become a viable way for businesses to succeed. By outsourcing to Mexico, companies can easily access top talent to seamlessly achieve digital transformation. And, with iTexico's Nearshore Plus services, you can ensure your business will meet the market's needs and fully leverage digital technologies. Change in the digital space is fast and customers expect engaging and innovative experiences. Is your business ready to meet these expectations?
What is Digital Transformation?
"Digital transformation" is the integration of technology into the systems and processes of a business to better serve current, and future business objectives.
Digital transformation results in changes on how businesses operate to better serve their customers. Additionally, this process of innovation touches on the work culture and user experiences to drive success. By fully leveraging these changes, small and big businesses alike, can heavily benefit from
going digital.


Why is Digital Transformation Important?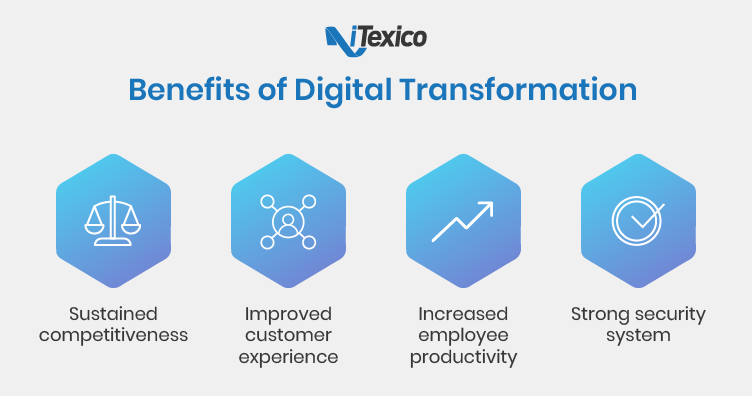 Today's digital business landscape makes it crucial for businesses to evolve along with it. Keeping up with competition, maintaining happy customers, empowering productivity among employees, and protecting your business make digital transformation fundamental in today's world. Some of the reasons why digital transformation is important include:


Digital Competitors
In almost every industry, long-established business models are not only failing to live up to to the digital business transformations of their competitors, but are also losing ground to new start-ups and disruptive "born digital" models in their industries. For example, restaurants such as TGI Fridays and IHOP are losing market share to newer, more disruptive restaurants that are using digital transformation to innovate in the space – using Google Assistant and Amazon's Alexa to offer new ways to order food and to engage with their restaurants.
Customer Expectations
Customer's voice is louder than ever, and one bad experience can have a ripple effect that can damage your bottom line for years to come. With more choices than ever, and greater accessibility to more markets, it is essential to constantly improve the customer experience through digital transformation. The customer experience must be flawless at all touch points with your business. Maintaining a high level of service is a constant pursuit.
Employee Productivity
A digital transformation doesn't necessarily involve turning all of your infrastructure over to robots and digitization. It's equally important to empower your employees and teach them how the new tools and systems can help them achieve better results and increase their productivity. For example, the HR department can benefit from a digital transformation through an improved payroll process. This would enable them to focus on more important tasks and business opportunities.
Cyber Security
Digital transformation can only be as transformative as the safety and security that protects it. This task is extremely important but equally as difficult. An ever-evolving security strategy must be implemented across all data, applications, and networks. Confidence in a strong security system allows the company to focus on achieving business goals while innovating in other areas of the business.

Leveraging Digital Transformation Companies and Nearshore Services
A successful digital transformation requires a high level of expertise, as well as internal resources that not all companies have: time, budget, and knowledge. Therefore, nearshore outsourcing companies exist as a way for companies to use a third-party provider to handle the transformation. Leveraging nearshore outsourcing has the following benefits:


Sophisticated Expertise
Nearshore outsourcing can bridge the gap between parts of a digital transformation that a business is not knowledgeable or competent in. Outsourcing various parts of the process can free up time and energy that the business can invest in other critical objectives. For example, a food distribution company can outsource the digital transformation of its supply chain management that it is able to focus on onboarding new employees.
Digital Insights
Consulting a third-party expert with digital transformation experience can lead to new and innovative ways to improve your business – helping you to find more efficiencies along the way. For example, the nearshore outsourcing company hired to help with the digitization of your supply chain system may uncover a more efficient way to handle payroll.
Faster Time-To-Market
By working with a nearshore outsourcing partner, companies benefit from the input of highly experienced experts in the digital transformation space. With this comes efficiencies and results that a company's internal team and processes may not be able to rival. Therefore, it can provide an advantage over competitors that might also be in the midst of a digital business transformation.
Strategic Partnerships
Outsourcing parts of the digital transformation process is an effective way to succeed. By leveraging nearshore outsourcing of digital transformation, businesses can have access to an experienced team to focus on the digital transformation initiatives. Additionally, by choosing the nearshore services that best suit their needs, companies can build strategic partnerships to handle the company's technological gaps. This can be very effective in establishing a consistent and thorough transformation.
With a high degree of importance placed on the digital transformation of businesses in all industries, it is no wonder why many choose to pursue nearshore outsourcing as a way to alleviate the time, stress, and expertise required to be successful. Staying competitive, keeping customers and employees happy, and protecting your business are only some of the reasons why a digital business transformation is so essential to success.
A business that looks outside of its internal resources and works with a nearshore outsourcing firm to transform will find the process to be vastly more efficient. If you are ready to trust an expert to help you compete and succeed in your industry for years to come, we invite you to learn more about iTexico and its Nearshore Plus services.