Frequently Asked Questions
Click on each question to reveal the answer.
About Us
At iTexico, we help companies with Software Development, Digital product design - UI/UX, back end, microsoft technologies, Java, JavaScript, Quality Assurance and testing services as well as Artificial Intelligence through nearshore development teams customized to your growth imperatives.
These are our Competency Centers:
iTexico is comprised of more than 300 professionals.
Our headquarters are in Austin, TX, and our sale offices in SoCAL and Silicon Valley. We conduct business as corp. to corp. in the USA.
For more information, take a look at our Contact Page
Our delivery centers are located in Guadalajara and Aguascalientes; we are expanding into Cancún, México.
For more information, take a look at our Contact Page

We are a Digital Services company with teams in the US and Nearshore Mexico. Our revenue comes from services.
How We Work
We work in Central time zone and often align our teams to the client's time zone (EST or PST, etc.)
We are flexible and always cater to the preferences of our clients. We like to use Slack or Teams for communication between companies because we believe it is superior for real-time daily communication versus email. Voice and video conferencing is highly recommended vs chat only communication. A majority of our clients also spend frequent face to face time with their team, both in Mexico and the US.
We provide dedicated resources to your team and project. You will have 100% dedicated resources unless you need a "fractional" resource. For example, your team might look like: 0.5 Product Managers, 1.5 Designers, 3 Developers and 2 QA. And there are technical constraints, as well. For web development, you'll usually have a frontend developer and a backend developer. For mobile development, you will likely need different developers for iOS and Android platforms, since they are so different.
We encourage a call or visit to your site so that we can walk through how your team is to be structured and expected to collaborate. Because we are flexible and we work with many clients -- each with their own version of agile -- very few of our teams work in an identical way. However, we do follow standard best practices as it relates to product development, scrum, and code management.
Many of our clients engage with us after they have already written the product specifications. As an alternative to this classic approach, we are happy to collaborate on this process. Our design and engineering teams can work together with your business to identify not only which features to build, but also in what order. We recommend engaging with us in a Design Sprint to help promote stakeholder alignment.
We will discuss the right approach based on your needs. Many of our engagements begin with a short Discovery engagement to bring clarity on next steps. Depending on the maturity of your product vision, you may need assistance with ideation, design, or engineering (or a combination of these) in order to solidify your plan and gain clarity on next steps. Our team can "meet you where you are."
After the SOW is signed, we are typically able to get started within a week's time.
Please do! We love welcoming our clients into our offices and allowing you to work side-by-side with your team. Meeting your developers face-to-face is a good way to build trust and form a united front that will ultimately result in a great product and a delightful business experience.
Sure thing. Our experts have valid visas and permits. We will be glad to help with travel arrangements and accommodation.
Rapidly within 2 to 5 days, although the exact time frame depends on the specific requirements of your project and the number and type of developers needed.
Talent
There has been an average of 130,000 engineers and technicians graduates in Mexico over the last five years. As a result, the state of Jalisco, home to one of our delivery centers, holds 40% of the IT industry in Mexico, with 12 universities creating an IT funnel of 85,000 graduates per year. Gartner Inc. recently ranked Mexico as a Top 3 worldwide destination for offshoring. Mexican talent is expanding at 3x the global average and continues to position itself as a global competitor.
If you'd like to know more about why Guadalajara, Mexico is being considered the new Silicon Valley, check out this article from the Washington Post.
Yes. In case we don't have enough talent on bench with the required skills for your project during the discovery, staffing or development process, our Talent Acquisition department will find candidates that fit the necessary criteria to have your team up and running as soon as possible.
No. Our mission at iTexico is to attract the best talent with the right skills and technologies to meet the market needs, and we are also deeply committed to developing the local talent through many programs and initiatives such as iTexico University.
Sure! Going Nearshore gives you access to a large talent pool of the best developers from around the world. Nonetheless, your ultimate team members must have the correct mindset and attitude for your specific needs and be an excellent fit for your company's culture. That's why we understand the importance of involving you in the staffing process to find your perfect match.
THE FIRST STEP

We get to know whether you need one project or a long-term business, team approach or project approach.

DISCOVERY

We propose a project manager or team lead to go on site to understand the scope of the project or long-term engagement.
If you already have a project manager, you can engage with us and give us insights instead of iTexico starting the discovery phase on our own.

LEADERSHIP

We need to determine whether you are going to be leading our team, or if you are putting your people on the team as well.

GATHERING OF INFORMATION ON SITE

We gather as much info as possible on the project to put together the perfect team for your needs.
opens new offices in the city.

UNDERSTANDING YOUR NEEDS

iTexico proposes a team where each candidate interviews with you to make sure they are the right fit for your company. If approved, we are ready to start the project.

TALENT MGMT

If we don't have enough talent or people on bench for the technology that is needed, we can first get requirements and search for the right candidates. This could last a couple of days or even three weeks on average to come back with the right team.

iTexicans have a wide array of educational backgrounds. For example, iTexico has a Ph.D., 20+ with Masters, all others with Bachelor degrees and technical degrees. Most educational accomplishments were earned in Mexico, but we also have engineers and architects with degrees from outside of Mexico, including England, India, Argentina, Cuba and Costa Rica.
Our Talent Acquisition team has strategic relationships with just about every major university in Mexico. However, we don't tend to hire directly from college in order to staff a client opportunity. Instead, we put our new hire college grads through a 3-month training program. At the end of that training program, these new employees are available to be placed (as a Level 1 resource) on a client engagement.
Most of our new hires are discovered through means other than colleges, including job fairs, social media, boot camps, referrals, etc. Regardless, our mission at iTexico is to attract the best talent with the right skills and technologies to meet the market needs, and we are also deeply committed to developing local talent through our many talent acquisition programs and initiatives, such as iTexico University.
Top 10 colleges from which we most frequently source new talent:
Universidad de Guadalajara (UdeG)
Instituto Tecnologico y de Estudios Superiores de Occidente (ITESO)
Instituto Tecnologico de Estudios Superiores de Monterrey (ITESM)
Universidad Autonoma de Aguascalientes (UAA)
Universidad de Colima
Universidad del Valle de México (UVM)
Universidad La Salle
Universidad Autónoma de Aguascalientes
Universidad Panamericana Aguascalientes
Universidad del Valle de Atemajac (UNIVA)

We have a very strong culture at iTexico and an above average attrition rate. We instituted the ENPS (Employee Net Promoter Score) in Q1 2019 with the goal of improving our retention even further. At our innovation centers, our Talent Management team coordinates many team-building activities and special events. We offer incentives to our team to keep the culture as strong as possible and provide our employees a flexible work environment to promote a healthy work/life balance. We do proactive salary adjustments and conduct regular internal evaluations with our iTexicans to see what adjustments need to be made, if any.
Our developers prefer to document their code and architecture within code repos. Our designers tend to store their designs and artifacts in common design tools such as Zeppelin and InVision. Most of our clients require that product knowledge be documented in a private wiki or using such tools as SharePoint, Trello or Jira.
Understanding - Receive and understand client requirements
Sourcing - Review candidate profiles
Screening - Interview by competences using STAR methodology
Internal Technical Interview - Present 3-5 candidates to team for assessment
Tech Assessment & Interview - Assessment of tech skills and ability to clearly communicate technical concepts
Selection - Interview by competencies (STAR methodology again)
Offer - Reviewing candidates profiles
iTexico Client - Onboarding


The following diagram was provided by our Talent Acquisition team to shed some more light on their process. Much more information is available if you're interested in learning more.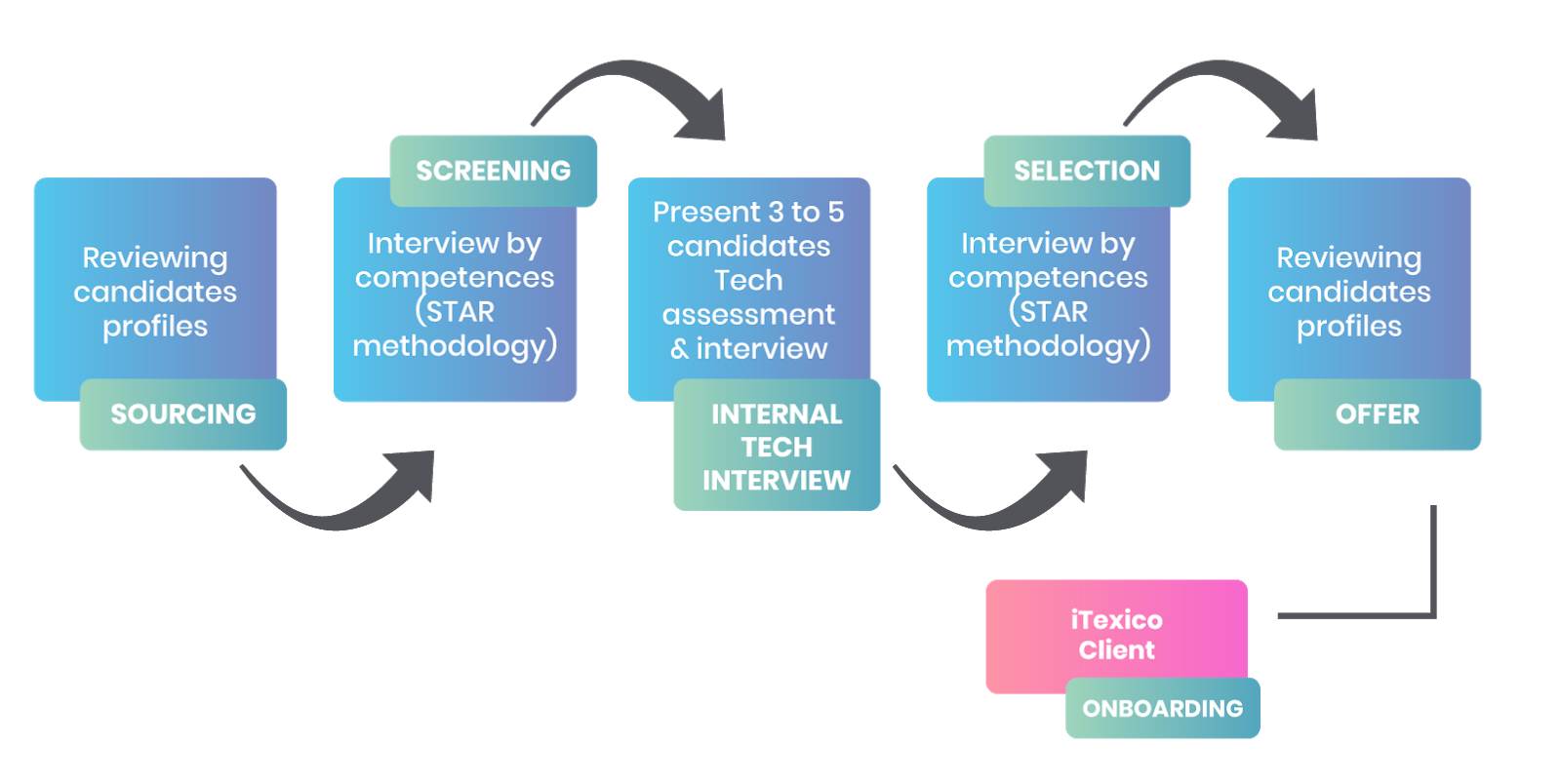 We conduct English interviews with an internal communication specialist. The interviewee must be able to have a reasonably comfortable conversation in English and have the ability to express technical concepts in English. The Delivery Managers also have one or more "fit" interviews to make certain the candidates are a good culture/team fit while speaking in English.
Once the new hire has completed the necessary paperwork, they are provided two full days of onboarding, including presentations that outline everything they need to know about the company, culture, and policies. On their third day, they receive training on OKRs and how we use them at iTexico. Throughout the rest of that first week, they are provided additional training as required by their project(s), if assigned, and will begin having conversations with their team leads regarding career development and other next steps.
At the end of the first month, they will have a group call with the talent management team to solve any possible questions regarding processes and to share their experience thus far. Additional touchpoints are scheduled for 3 months, 6 months and 12 months from the hire date.
We implement a corrective action plan without delay. The Team Lead or Delivery Owner establishes the area that is in need of improvement and the desired performance. We work with the team member on an improvement plan, complete with a timeline. Delivery Managers contribute to this process when necessary and have the authority to replace or supplement the team member for the given project/engagement.
Once the need for transition has been identified, the Delivery Owners and Managers work with Talent Management to create a plan. When necessary, the client is consulted and/or informed of the selected approach.
Absolutely, with additional checks and balances built in. Every team has a Delivery Owner (DO) and a Delivery Manager (DM). The DO is typically the most senior engineer on the team and is a fully billable and typically dedicated resource. The DM manages multiple DO's and is typically non-billable, but can be available for part-time billable work (typically as a system architect) based on client needs.
Nearshore+
As opposed to an onshore or offshore approach, by teaming up with professionals across the border, you get substantial service benefits while gaining access to talent capacity, code quality, team collaboration, improved communication, cultural similarity, same time zone and, of course, proximity and accessibility. Our delivery centers are just a few hours flight away from most U.S. cities, giving you the opportunity to work with your extended team face-to-face and be back home the next day without grave inconveniences of long trips and time costs. At the same time, many of our customers enjoy having their team come to their local office in the US, the cost and convenience again is a big savings vs. farshore.

Want to learn more about Nearshore's cost advantages? Click here and compare rates of building an Onshore team in the US vs a Nearshore+ team with iTexico.
Our 7 C's
Capability

The technology ecosystem of Mexico including public, academia and private sector provides a great alternative for skilled talent for design, development and testing on both proven and innovative technologies.

Convenience

At the core of our nearshore model is both proximity and accessibility. By having connected and shared borders with Mexico, our customers can have calls on the same time zone and easily travel to our development centers.

Collaboration

One of the most vital success factors for a quality customer service experience is the communication skills coupled with an Agile methodology to help ensure that teaming is improved while helping accelerate development.

Culture

Sharing the same border minimizes the communication gaps and provides a unique differentiator in that the teams understand one another's perspectives, way of business and working allowing for better integrated teaming.

Capacity

Mexico has moved into the top global software destinations and is the leading Latin market with both capacity and availability of talent and with our extended team approach clients can scale up or down without the long-term commitments.

Creativity

One of the unique values of of the NearshorePlus development model is the creativity and quality of design, development, and quality assurance talent to leverage best practice software development methodologies such as Agile and Lean.

Cost - Competitive

The global costs beyond the local US market on an hourly basis are beginning to experience parity thus leaving customers with a greater value choice that includes true nearshore convenience and an overall improved customer experience.
Nearshore refers to outsourcing in countries located near you, meaning IT companies in Central and South America are also considered options in this category for the US and Canada. Mexico's Nearshore+ model gives you greater advantages than other Nearshore alternatives by allowing you to team up with skilled and capable talent just across the border, close enough to visit and return home even the same day, with similar culture and time zones, and at lower costs than other outsourcing providers and global options.
Mobile
Android, iOS
Xamarin
Hybrid
Kotlin
Swift
UI Testing
Cross-Platform
Test Flight
React Native
.NET
Azure
SQL Server
Power BI, C#
Entity
Framework
SignalR
TFS
Visual Studio
MVC 6.0
WebAPI 2.2
.NET Core
ASP.NET
Windows Forms
WPF Architecture
Java
Java 7
Java 8
Spring
Srping Boot
DropWizard
Microservices
Architecture
JUnit
Spock
JPA
Hibernate
MySQL
JDBC
Gradle
Maven
Git
JavaScript
Angular
React
Node
MongoDB
Loopback
Express
HTML5
CSS3
Less
MEAN
Git
GitLab
QA
Manual Testing
Automated
Testing
Desktop Testing
Mobile Testing
API Testing
Continuous
Visual Studio
MVC 6.0
WebAPI 2.2
.NET Core
ASP.NET
Windows Forms
WPF Architecture
DevOps
CI /CD
AWS
Azure
Docker
Hadoop
Jenkins
Ansible
Puppet
AI
Data Architecture
Data integration
Data Display
Curatig Big Data
Predictive Leraning
Self Learning
Text Interpretation
Video Interpretation
AI Application
Development
We have experience with many industries, including energy, technology, healthcare, infrastructure, professional and financial services.
We use scorecards to measure performance and quality. A key way that we partner and measure success with our clients is by using Net Promotor Score or NPS, which is a metric that determines the loyalty of customers to a company with a score from 0 to 60, where a higher one is desirable. NPS scores are measured with a single question survey.
Mexico is a unique country thriving with colorful culture and history, and it is the country in Latin America with the highest amount of tourism. We suggest that you exercise the usual degree of caution that while traveling anywhere.
If you'd like to know more tips, check out this safe travel guide.