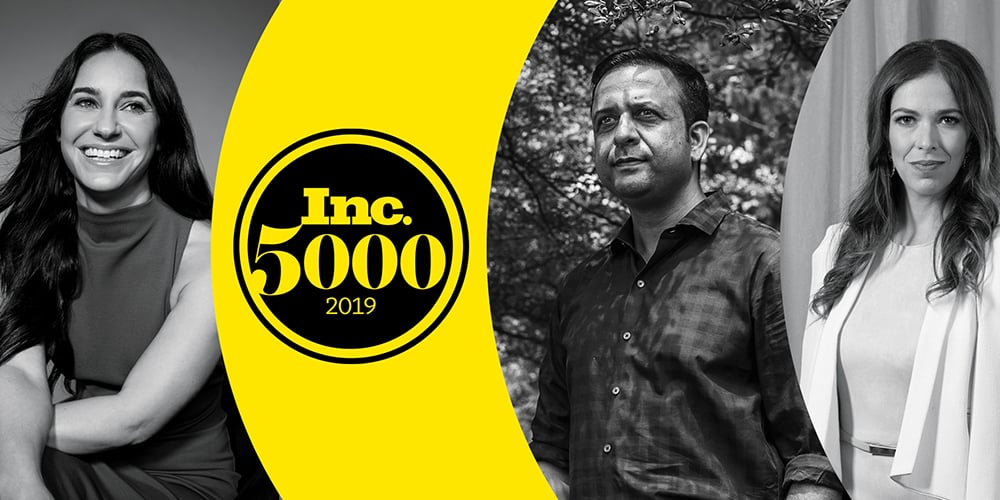 iTexico ranks No. 3402 on the 2019 Inc. 5000
Inc. Magazine Unveils Its Annual List of America's Fastest-Growing Private Companies—the Inc. 5000 and for the 4th time, iTexico Ranks on the list.
Austin, TX, August 19, 2019 – Inc. magazine, last Thursday, revealed that iTexico is No. 3402, with three-year revenue growth of 104% on its annual Inc. 5000 list, the most prestigious ranking of the nation's fastest-growing private companies. The list represents a unique look at the most successful companies within the American economy's most dynamic segment—its independent small businesses. Microsoft, Dell, Domino's Pizza, Pandora, Timberland, LinkedIn, Yelp, Zillow, and many other well-known names gained their first national exposure as honorees on the Inc. 5000.
iTexico's success comes from the power of its client's loyalty and the team that works every day to enable them to transform their business through digital innovation. With new and exciting digital service offerings, they are tackling some of the most interesting technology challenges out there, in emerging areas including Design, Product Engineering, Quality Assurance, Mobile, Cloud, and AI. The demand for these digital services has increased as companies continue to look for ways to leverage new technologies to increase their growth and gain competitive advantage.
"I couldn't be more proud of our global team of over 330 innovators and practitioners in the US and Mexico, who work hard and smart every day with clients, large and small solving really complex problems. Being on the Inc. 5000 for the 4th time in the last 5 years is an amazing accomplishment", said Anurag Kumar, iTexico's Co-Founder & CEO.
Not only have the companies on the 2019 Inc. 5000 been very competitive within their markets, but the list as a whole shows staggering growth compared with prior lists. The 2019 Inc. 5000 achieved an astounding three-year average growth of 454 percent, and a median rate of 157 percent. The Inc. 5000's aggregate revenue was $237.7 billion in 2018, accounting for 1,216,308 jobs over the past three years.
Complete results of the Inc. 5000, including iTexico's company profile and an interactive database that can be sorted by industry, region, and other criteria, can be found here.
About iTexico:
iTexico fuels digital innovation to enable companies to transform their business, through a wide range of digital service offerings, including Design, Product Engineering, Quality Assurance, Mobile, Cloud, and AI. By leveraging a Nearshore+ delivery model, iTexico provides an amazing choice for the right talent at the right time. iTexico's headquarters are in Austin, TX with two wholly-owned innovation centers in Guadalajara and Aguascalientes, Mexico, and offices in Cancun, Dallas, and California. Over the last 9 years, iTexico has experienced steady year over year growth by developing strong partnerships with well-funded early stage, growth and large transformation-driven companies, including Carbon Black, Marriott, Western Digital, HomeAway and many others. For more information, visit http://www.itexico.com
Contact:
Lucía Tróchez
Marketing Manager
(855) 977-0342
More about Inc. and the Inc. 5000
The 2019 Inc. 5000 is ranked according to percentage revenue growth when comparing 2015 and 2018. To qualify, companies must have been founded and generating revenue by March 31, 2015. They had to be U.S.-based, privately held, for-profit, and independent—not subsidiaries or divisions of other companies—as of December 31, 2018. (Since then, a number of companies on the list have gone public or been acquired.) The minimum revenue required for 2015 is $100,000; the minimum for 2018 is $2 million.