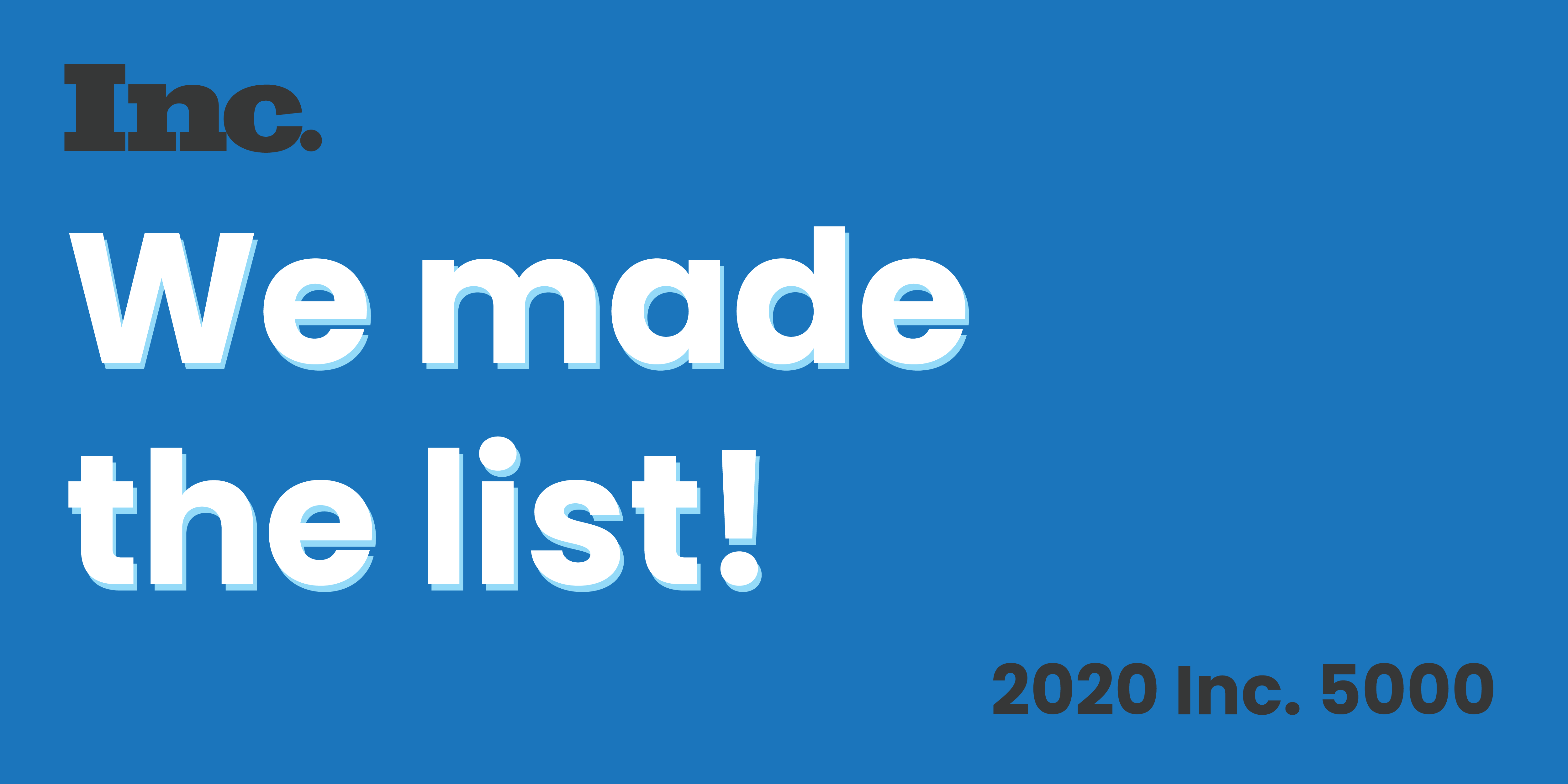 We Made the 2020 Inc. 5000 List!
Inc. Magazine Unveils Its Annual List of
America's Fastest-Growing Private Companies—the Inc. 5000
For the 5th Time, iTexico Appears on the Inc. 5000,
Ranking No. 2133 With Revenue Growth of 196.83 Percent
NEW YORK, August 12, 2020 – Inc. magazine today revealed that iTexico is No. 2133 on its annual Inc. 5000 list, the most prestigious ranking of the nation's fastest-growing private companies. iTexico now joins a select group of companies as a 5-time honoree with a 196.83% growth. The list represents a unique look at the most successful companies within the American economy's most dynamic segment—its independent small businesses. Intuit, Zappos, Under Armour, Microsoft, Patagonia, and many other well-known names gained their first national exposure as honorees on the Inc. 5000.
"After ranking in the Inc. 5000 Series: Texas earlier this year, iTexico is honored and proud to be recognized again as an Inc. 5000 honoree, which is a result of our talent's relentless dedication to providing great value and innovation to our customers. We're so grateful for the opportunities provided by both our team and our clients, and want to thank them for our success. We wouldn't have been able to become an Inc. 5000 honoree for the fifth time without our clients' commitment to growing with us by their sides. After recently becoming an Improving Company, we are ready to offer additional transformative digital solutions to our clients and continue expanding our teams in the U.S. and Mexico." CEO, Anurag Kumar.
As of June 2020, iTexico has joined forces with Improving, a technology consulting company an 11-time Inc. 5000 honoree. The merger is expected to increase Improving's workforce by more than 300 professionals with a combined annualized revenue in excess of $115 million.
Not only have the companies on the 2020 Inc. 5000 been very competitive within their markets, but the list as a whole shows staggering growth compared with prior lists as well. The 2020 Inc. 5000 achieved an incredible three-year average growth of over 500 percent, and a median rate of 165 percent. The Inc. 5000's aggregate revenue was $209 billion in 2019, accounting for over 1 million jobs over the past three years.
Complete results of the Inc. 5000, including company profiles and an interactive database that can be sorted by industry, region, and other criteria, can be found at http://www.inc.com/inc5000 . The top 500 companies are also being featured in the September issue of Inc., available on newsstands August 12.
About Improving
Improving is a technology consulting, custom software solutions, and training firm focused in Agile, Microsoft (.NET) and Java technologies. In July 2018, Improving announced their partnership with private equity firm Trinity Hunt Partners. The company has an International presence with offices in Dallas, Texas; Bryan/College Station, Texas; Houston, Texas; Columbus, Ohio; Cleveland, Ohio; Minneapolis, Minnesota; Atlanta, Georgia and Calgary, Canada. To learn more about Improving, visit http://improving.com/
About iTexico
iTexico is a global digital services company based in Austin, Texas with multiple Nearshore Innovation Centers in Mexico with more than 300 professionals. We fuel digital innovation that enables companies to transform their business through a wide range of digital service offerings including: Design, Product Engineering, Quality Assurance, Mobile, Cloud, and AI. Over the last 9 years, iTexico has experienced steady growth by developing strong partnerships with over 250 well-funded early stage, growth, and large transformation-driven companies. For more information, visit http://www.itexico.com
###
Media Contact - Improving
Kristin Johnson
VP of Marketing
Kristin.johnson@improving.com
214.613.4448
Media Contact - iTexico
Kay Johnson
CMO
kay.johnson@itexico.com