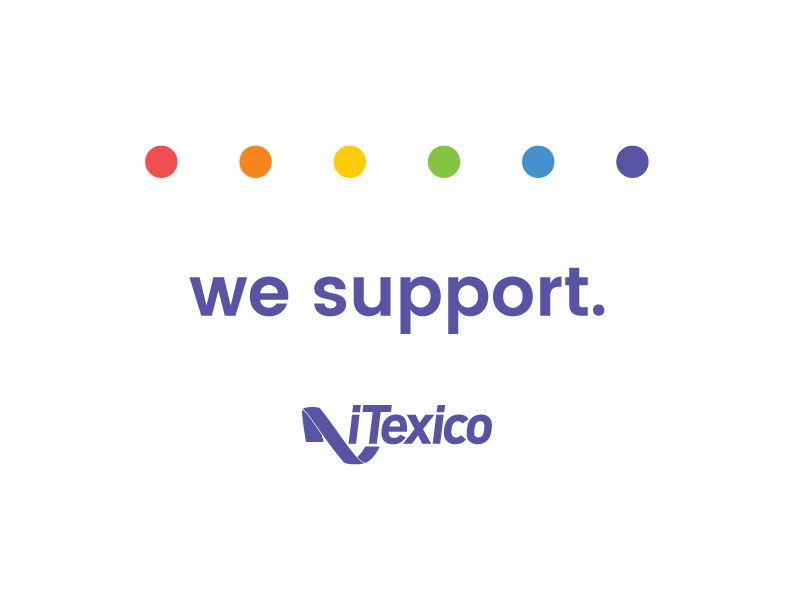 iTexico Announced Among 2020 Top LGBT Inclusive Companies
December 2020, Mexico - Human Rights Campaign Foundation has announced the 2020 ranking of top companies to work for that champion LGBT inclusion in Mexico, and iTexico is among 120 surveyed businesses that achieved the highest score of 100. The Nearshore+ software development pioneer supports more than 300 jobs among their delivery centers in Mexico and corporate offices in the USA, being of critical importance to reflect its' commitment to LGBT equality among its' binational community.

HRC Foundation conducted a survey within Mexican businesses evaluating their LGBT workplace inclusion, and whether they have adopted and encouraged essential LGBT inclusive policies and practices among their employees. HRC assessed these three core pillars of LGBT inclusion:
Adoption of nondiscrimination policies.
Creation of employee resource groups or diversity and inclusion councils.
Engagement in public activities to support LGBT inclusion.

"After finding out that iTexico was recognized as a top-scoring company with the designation of "Best Places to Work for LGBT Equality" by the HCR Foundation, I just wanted to shout it through the rooftops.

I can say without a doubt that very few companies walk the talk. As an openly gay man I am extremely proud to call iTexico my home. Not only are there daily genuine efforts to promote an LGBT inclusive corporate culture, it also provides a safe work place where LGBT members can be themselves and reach their full potential.

These activities come from a human and nurturing leadership. Guillermo Ortega and Anurag Kumar make sure with our policies and core values that there is inclusion and empowerment throughout every step of the way. iTexico is showing by example that things can really change when they come from a place of understanding and equity." - Armando López, Talent Management Specialist at iTexico
At iTexico, we are always looking to create a safe and welcoming environment for all our iTexicans. We are convinced that great innovation begins with great talent, and we celebrate the diversity that makes our exceptional Nearshore+ talent who they are. We have a commitment to provide enterprise delivery and fuel digital innovation to enable our clients to transform their businesses, which would not be possible without the great effort of our Nearshore+ teams.
At the end of the day what makes iTexico a Best Place to Work for LGBT Equality is our family of iTexicans and the company culture they embrace. If you are looking for an employer that ensures your well-being and invests in your professional and personal thriving, iTexico is the place for you.
Looking to further explore the Nearshore opportunity? Get in contact with us to start your next project!