IT Outsourcing: Is Mexico the new India?
---

India Outsourcing and Software Outsourcing to Mexico
Over the last decade, with the explosive growth in outsourcing to India, many daunting new challenges have arisen. Not only that India is no longer the least expensive option, but also the time zone difference once considered an asset on the Indian it services, is now widely seen as a liability in today's Agile development environments.
Mexico has positioned itself as a highly competitive destination to outsource software development through nearshore development.

Outsourcing Challenges
These challenges have created a shift in the demand of IT services to "nearshoring" - to the countries of Central and South America; services that Indian firms became famous for offshore outsourcing, engineering, maintenance, tech support, business processes, quality assessment, bug fixes, and so on.
While companies have focused on Costa Rica, Argentina & even Chile in the past, they are rapidly discovering the closest, most obvious choice: outsourcing to Mexico.
The information technology outsourcing industry in Mexico is mature and globally competitive.
Because of its proximity to the United States, same time zone, the cost saving and ease of travel (over 300 flights go from the US to Mexico every day) Mexico Outsourcing provides to the American companies the possibility to easily work with their lead IT teams in Mexico.
NAFTA membership provides an added advantage, in that intellectual property rights are protected along with a free flow of goods and services. Additionally, there are no travel restrictions between the USA and Mexico, as there are with Indian companies (foreigners can only make one trip every 60 days).
Mexico has positioned itself as a highly competitive destination to outsource software development, and the Government is motivated to increase its share of the tech industry.
In 2002, they launched a program to promote the software outsourcing Mexico's technology industry and the goal was to increase it to over $15B annually by 2013.
Since that time, they've built three technology parks: Monterrey Technology Park for multinational companies; Apodaca Technology Park, and Guadalajara Software Center, which is located in the center of Mexico's "Silicon Valley."
This move has already paid dividends, as evidenced by several new companies that have formed, focusing on everything from Game development and Animation to Enterprise Software, Cloud Computing, and IT Services.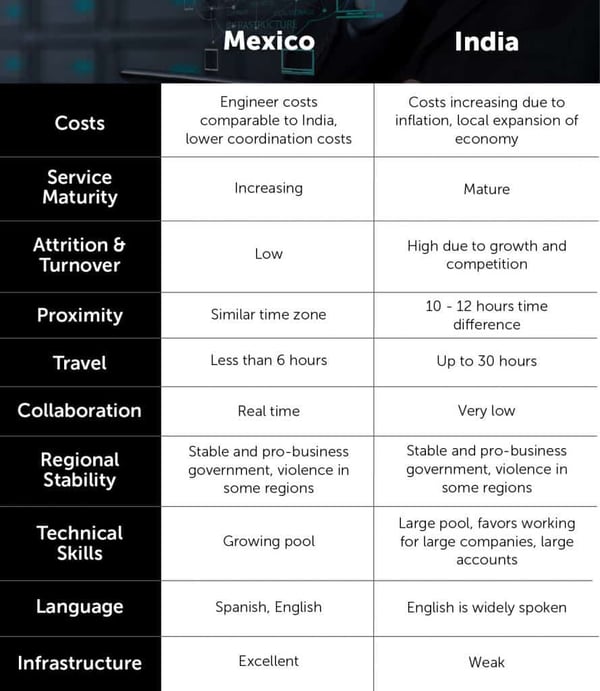 Unfortunately, the constant news of drug violence that permeates our media has negatively impacted our perception. The fact is that the violence is localized to mainly border areas, while the IT outsourcing hubs have not experienced anywhere near the level of violence that plagues the border cities (Juarez, Nuevo Laredo, Nogales, etc.).
In fact, only Juarez made the top 25 most dangerous cities for off shoring according to CIO Magazine (and note that two cities in India are in the top 10).

Myths & Realities Around India and Mexico Software Outsourcing
Nearshore VS. Offshore – It is all the same

Only India can do IT outsourcing

Nearshore is more expensive

IT talent in Mexico?

It is dangerous to do business in Mexico

12-hour time zone difference helps with round-the-clock development

Any outsourcing implies compromise in quality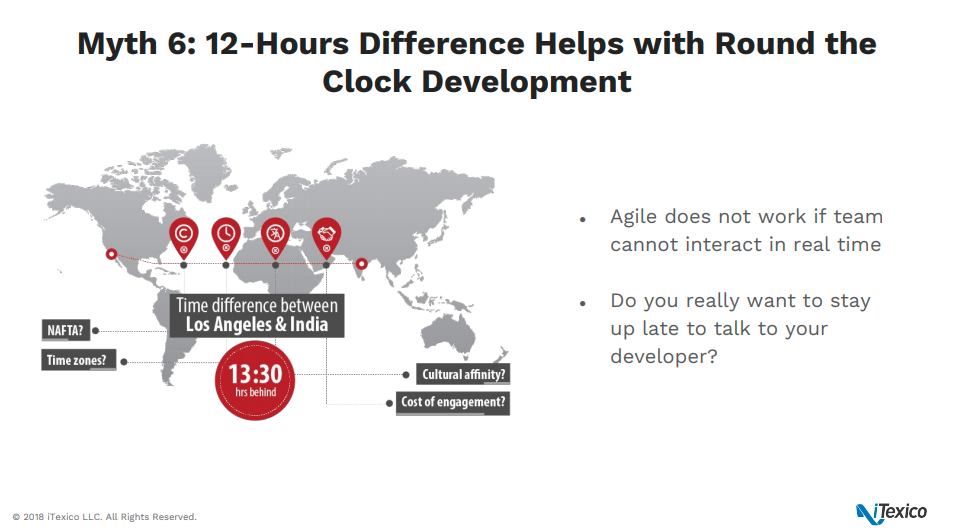 Our Software Outsourcing Company with headquarters in Austin has a software delivery center in Guadalajara and recently a New Delivery Center in Aguascalientes a refreshing trip as opposed to Indian outsourcing--trust me.
With nearshore software growing tech talent and untapped potential, the outsourcing software development services and extended teams to Mexico is a viable option and is worth further consideration.


Make your next project a success! Get in touch!