Outsourcing software development is a great option for businesses to achieve their digital transformation goals while reducing risks and maintaining a cost-savings approach, and American companies are more aware than ever of its many advantages. If you're considering IT outsourcing services, you're probably questioning whether the quality, budget, and deadline of your project is at risk. While business owners are wise to consider every scenario, there are a variety of benefits of teaming up with a software developer outside your enterprise. Working with a skilled multidisciplinary team can help you execute temporary projects, reduce your labor costs, and improve your development execution speed.
7 Reasons to Outsource Software Development
Outsourcing software development is a smart option for growing startups and well-established companies for several critical reasons. The benefits of outsourcing your development needs include:
Cost Savings
More enterprises than ever must do more with tight finances. Using an experienced, outside company will help you manage your development fees. Not only will you eliminate your IT recruiting budget, but freelancers will cost less than offering someone a salary. Nearshoring partners from Mexico will further improve your cost savings by providing you with the same caliber of talent and agile methodology as a more expensive team from Canada or the United States. A nearshore partner will also reduce the overall fee for developing your product, since they work quickly and efficiently at a reasonable rate. Click on the image below and take a look at our infographic on Nearshore+ cost benefits to learn more: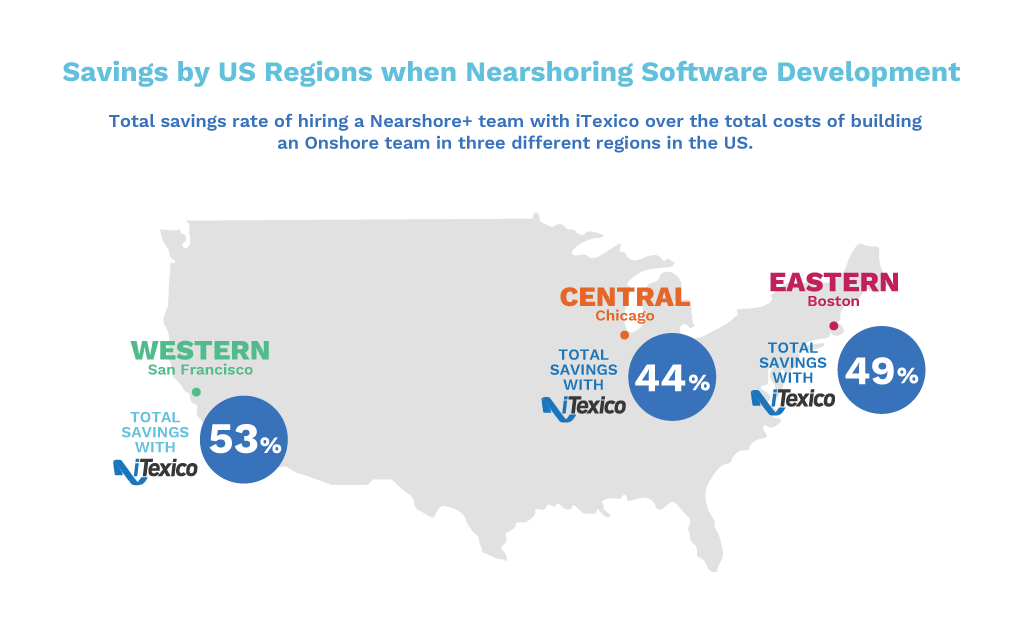 Flexibility
Today's executive teams are required to juggle a variety of tasks and responsibilities. Since you won't spend extended time recruiting, hiring, or training employees, you and your staff can focus on the mission-critical tasks that are necessary for running your business. As a result, more money can be devoted to sales, marketing, and business development. You'll also have the option to work on a project-to-project basis, so there's no pressure to keep your developers on the payroll once a product is complete.
Time Savings
In a competitive digital environment with no room for error, speed to market is essential. Having a dedicated software development team with experience in agile methodology will allow your product to be ready for your customers ahead of your brand challenges.
Talent
A 2018 survey of American CIOs revealed how difficult it is to find the right IT talent in today's marketplace. Outsourcing your software developers gives you immediate access to a well-qualified candidate pool. This benefit allows your company to start your project faster, minimize mistakes, and provide a quality, tested product to your intended users in less time.
Access to Domain Knowledge
Expanding into new markets is one of the top go-to growth strategies for today's competitive businesses. While you may begin with one idea for a useful app, working with innovative software experts is sure to open your eyes to emerging opportunities. Robust software development companies with multidisciplinary teams feature a variety of competency centers, like AI, Mobile, and .NET, so they can easily poise your enterprise for further expansion.
Meeting Customer Expectations
A skilled outsourcing company will assist you in researching and identifying target customers' personas. Taking the time to engage in persona development allows you to understand your intended audience better, so you build the software that your clients desire. Without an intimate knowledge of your customers' wants, needs, and expectations, your app or website may fall short of success.
Increasing and Scaling Team Skills
Software development outsourcing empowers you to scale your team's skills and costs up and down as needed. If your budget must go to other areas, or you suddenly need a bigger team to achieve your project goals, you have the freedom to let your experts go – or quickly add professionals in other competency areas to your lineup of IT specialists.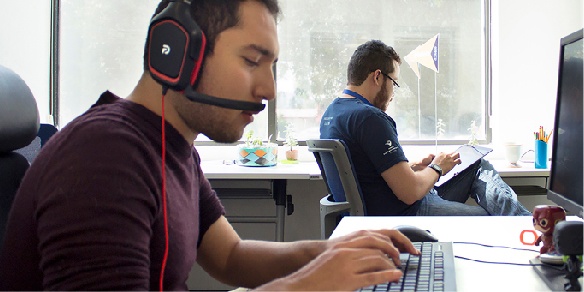 Why Outsource to Mexico?
With so many advantages provided by software outsourcing, now is the ideal time to get started with a group of proficient and dedicated experts. While you have options to outsource teams in the United States, Canada, and offshore countries like India and Ukraine, nearshore software development with a skilled staff from Mexico is your best option. In addition to the overall cost savings, nearshoring with Mexican IT specialists allows you to collaborate in the same time zone – or one directly nearby.
Partnering with a unit with a similar culture also allows you to define, maintain, and achieve project goals without delays or confusion.
What's more, technological innovation cities like Guadalajara, Mexico, are only a couple of hours by plane from anywhere in the United States, which increases opportunities for executives to visit and partner with their experts face-to-face. In fact, the state of Jalisco is home to a large number of technology-based institutes and universities offering an overflowing amount of IT talent. Mexico currently educates more than 70,0000 engineering students, with over 9,000 technical and engineering graduates per year. Along with the country's commitment to over 50 technology innovation parks and incubators, and a presence of more than 1,200 high-tech companies, it's difficult to argue why Mexico is the best choice for Nearshore IT services for the Americas.
If you're ready to achieve your software development goals with more cost savings, control, potential, and project success, now is the time to discuss the benefits of working with a talented nearshore services company from Mexico. iTexico is a nearshore software development services company that offers digital innovation with multidisciplinary software teams through its Nearshore Plus services. To learn more about how we can help you disrupt inefficiencies, enter new markets, and grow faster, visit our website.