Selecting A Software Development Outsourcing Provider In Texas
A software development services company is an organization that does precisely what their name implies: they provide the software. Software development businesses provide any number of useful services, such as website and mobile app development, digital solutions, consultation, you name it.
So, let's say you're an organization looking to branch out. You might be looking to update and refine your website, come with a new digital product, design a new functional app, or you need a new source of business intelligence to inform your decisions. You might try to make this an in-house project to save cash, but ultimately, you're gambling with results.
When outsourcing a project, looking into a software development provider is going to be your best bet. However, here's the tricky part: how do you know which software development service providers in Texas are going to be the best fit for your needs? What if they fall short of expectations? How do I know which questions to ask a software development company?
Rather than going in blind, we're going to try and help you with selecting a Texas software development outsourcing provider that best suits your needs. You'll know what to look for to be confident you're getting quality service and appropriate skills that align with your goals and get the most value for your investment.
Finding the right software development provider is a lot like tailoring a suit. Given the educated opinion, your final choice should be a perfect fit.
How to Choose a Software Outsourcing Partner?
There isn't a one-stop shop for correctly choosing a software development provider, it's not quite that simple. That's a good thing. There are dozens of ways you can approach making the selection and coming out the other end with the right choice. For all the approaches you can follow, there should only be one goal in mind: find the vendor that best fits your business needs.
Thankfully, we at iTexico are here to help point you in the right direction to make the right decisions.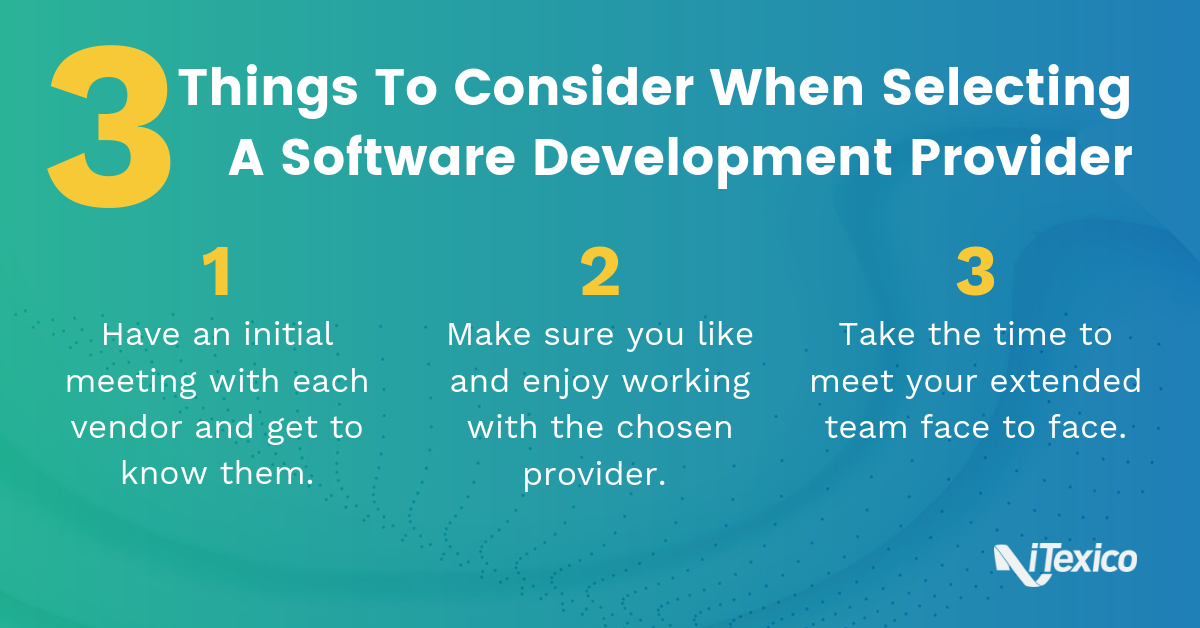 What Our Clients in Texas Say
Our word is our bond, but we see no reason why you should take everything we say at face value. Instead, we feel as though the best way to deliver our best advice comes from those who have gone through this process already.
There are three things that our clients will encourage you to consider when searching for software outsourcing providers in Texas. In a way, these are basic "golden rules" that provide you with a starting platform for establishing and understanding what your relationship will be like with this software developer in the future.
Clearly define from the beginning that you are choosing a software outsourcing team. You're not going to run into a lack of options when choosing the right software development provider in Texas. If you want to weed out the ones that won't mesh with your business goals, the first step is an initial meeting. Sit down and have a coffee with the vendors, listen to their company premises, and delve into how to make future collaboration convenient for yourself.
Software development takes a lot of time, work, and effort. When you're thinking about managing technology solutions, testing, and maintenance down the road, you need to make sure you enjoy working with the people you've hired. For all the complexity in software development, it's easy to overlook a simple, crucial detail: do you like them?
Take some time to go and visit the delivery centers. Having a first-hand address with your developers is the best course of action to take. Once you've established contact with a software development company in Texas that best suits your needs, make sure you're able to have a conversation with the actual candidates for your potential team. Nothing beats personal experience.
Your company is in the point in time where you no longer need an in-house software development team. However, you may still be interested in pursuing the technological boundaries needed to bring value to your customers and to achieve your business objectives. On the other hand, you may still want to keep your current software development team, but need a new dedicated team to complement yours for the short and long term.
Whatever your position is, your decision needs to be made in full confidence. Take the criteria provided to you to ensure you'll be able to make the best-informed opinion possible.
Gartner's Checklist
Gartner is a global research and advisory firm that provides some of the best insights and information sources in all things business. When discussing the matter of choosing the correct software development services company, they broke down the process into a few cohesive steps to consider. Consider it a checklist before you make your final decision. Explore this checklist further through our interactive Decision Maker Guide.
When you start your research, make sure to consider the following:
Labor Pool Size & Quality
Time Zone & Culture Affinity
Ease of Doing Business
Application Services Availability
Availability of IT Framework
Cost of Core Services
Data Privacy & Protection Laws
Quality of References
When all is said is done, and you've finished checking the boxes, the fact remains that the true top provider is in the eye of the beholder. Every criterion listed here is an excellent point to consider, but their every individual worth will vary depending on what your necessities are.
The client's personal evaluation criteria hold the most weight, bottom line. It's for this very reason that the standards for each criterion change from case to case, all based on aligning values, business model, technical fit, and needs for collaboration and teaming.
Labor Pool Size & Quality
When it comes down to forming your software development team, you want to be sure that the candidates are up to par with your expectations. Any reputable developer will have a sizable labor pool filled with a diverse number of qualified individuals to choose from. Selection and quality are key here, but none more so than ensuring your team is filled with specialized workers.
There are more than enough software development providers in Texas that can supply ample competent team members, but the fact is that they may not all have the skills you're looking for. Before you make a final decision, make sure that they can provide enough high-quality, skilled members to suit your needs.
Time Zone & Culture Affinity
Communication is an integral part of any team-based goal. While considering the type of team you're looking to put together, time zone and culture affinity are important aspects to take into consideration. But what makes these some primary strategic business drivers for projects?
It's all about the time you spend with each other. Working on a software development project means you'll be spending a large amount of your time in a high-interaction environment that requires constant communication. Wildly separate cultural experiences can tend to make the experience somewhat difficult.
Time zones, on the other hand, can make important business discussions a challenge. In a project where real-time communication, regardless of what time it may be, comparable time zones make information exchanges more efficient for the benefit of the project.
Ease of Doing Business
Judging how well you'll be able to conduct business with your new partners is an important step toward seeing the direction your project will go. Success is derived from the synergy in almost every case.
Aspects of your relationship, like cultural affinity, language barriers, and time zones, are going to come back into play for this. However, the number of factors determining the ease of doing business turns out to be much more complicated. Government support, as well as IP security and privacy laws, facilitate a smoother exchange of information.
The legal system, in general, is going to determine how easily you'll be able to work with a software development provider. Effective legislation relating to intellectual property protection; data protection and privacy; and copyright, trademark and patent laws are going to play a huge role in your partnership.
Application Services Availability
Your project should be able to reach a wide audience readily. As such, your software development provider should be capable of meeting user requirements. A product that is consistently failing to have enough uptime is going to much less attractive than one that's up 90% of the time. You should research a software development provider's application services availability thoroughly before making a final decision.
Availability of IT Framework
A local IT framework is paramount for a fully functioning, effective software development service. A developer worth partnering with should have invested in a country's IT framework to effectively maintain a steady network.
Ideally, your project should be capable of withstanding network connectivity issues and crashes, while creating backup in case of a failed scenario. Essentially, every circumstance should have some level of redundancy to preserve the integrity of your product. A software development provider should be prepared for and capable of handling anything through a high-quality IT framework.
Cost of Core Services
Pricing is always going to be at the forefront of your software development provider search. Why wouldn't it be? Finding the best value for your product is always important.
The cost of the core services will be a huge determinant in deciding the boundaries and limitations you'll be able to push your project. Cost of labor, communications, managing remote teams, and maintaining both infrastructure and real estate facilities are the cornerstone of your project.
Your core services represent exactly what their name states: they're the essential cores of your project. Without a high-quality core, the entire infrastructure suffers. It's only sensible that a good software development provider will provide an excellent array of standard core services.
Data Privacy & Protection Laws
The advent of the internet era has, especially in recent years, lead to an increase in issues regarding customer's privacy. Personal information is often disseminated and sold to third parties, both with and without consent, and data is frequently left unprotected. This can lead to severe trust issues between companies and their consumers.
Fixing that divide starts with a concerted effort with your software development provider to ensure they're following the proper data privacy and protection laws. Customers should feel confident that their data and private information stays protected while using your product. Maintaining that integrity gives you a boost above competitors as far as users are concerned.
Quality of References
Finally, as Gartner says, always makes sure to check, check, and check again everything about a potential partnership. Consulting reliable and direct references for the established Nearshore outsourcers that you're looking at will determine whether they're accurately representing themselves. Companies are never guaranteed to present themselves with 100% honest accuracy.
It falls on your shoulders to validate whether a software development provider lives up to their reputation before you finalize the deal. It's better to be safe than sorry.
Making the Decision
Exchanging opinions with your peers is the way to go for getting new viewpoints on a software development provider. Gather an array of trusted opinions before heading out to find what sort of options are nearby. If you're looking, here's a list of software development companies in Texas according to The Clutch director, a third-party expert in developer matters.
If you're ever looking for assistance in finding a quality software development provider in Texas, don't be afraid to get in contact with iTexico. Headquartered in Austin, as well as having sales representation in Dallas, iTexico is perfect to get a coffee with and begin solving your custom software development company needs. A trusted, experienced opinion never fails to carry weight when the future of your project is on the line.