The Benefits USMCA Brings To Nearshore Through IP Protection
What is USMCA?
The sometimes referred to as "New NAFTA", USMCA (United States-Mexico-Canada Agreement), continues the legacy of its predecessor and benefits greatly the Nearshore industry through tight intellectual property protection laws, and is more clear and inclusive of the digital economy especially as it relates to free movement of data across all countries.
The USMCA Agreement results from the renegotiation of NAFTA by its members and regulates trade between the United States, Mexico, and Canada, including updated intellectual property protections. The deal establishes a legal and policy framework of minimum standards for IP protection in North America, requiring Mexico and Canada to implement notorious improvements to their IP laws to align with U.S. calibers.
How Does USMCA Benefit Nearshore Software Development?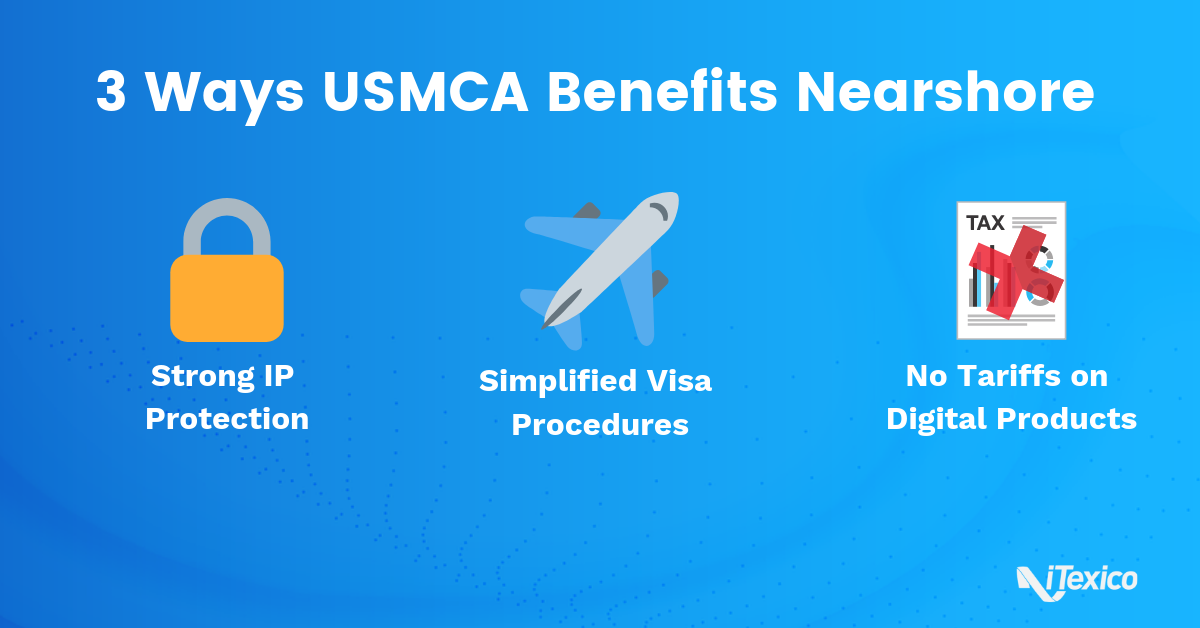 The renewed relationship between the U.S. and Mexico through USMCA is a positive tonal shift overall, plus extending three main incentives for Nearshoring software development to Mexico:


Strong IP Protection


Nearshoring or outsourcing your software development project to Mexico allows you to take advantage of the country's IP protection since data privacy laws ensure that your project is protected at the same standards enjoyed in the U.S. Your code remains your code. Learn more about what you can do to protect your IP when outsourcing.
Simplified Visa Procedures


This renewed relationship between the U.S. and Mexico reinforces the topics of security and migration, making the southern border much more appealing compared to Asia or other offshore options because of its' preferential access. There is no date constraint on visas for Mexican professionals that need to work in the United States: visas to work for a certain or extended period of time on site can be applied to and granted at any time of the year. Meaning engineers from Mexico can freely come and go to suit the needs of a project. Whereas H1B visas that allow U.S. employers to temporarily employ foreign workers in specialty occupations are strictly monitored, processed under a strict ration and only issued in October.
No Tariffs or Barriers on Digital Products


New digital trade liberalization rules mean no customs tariffs or trade barriers on or in connection with the importation or exportation of digital products or services. This makes Mexico the only country with preferential access and officially the most cost-effective provider of any service to the U.S. in terms of wages.
The updated trade deal sets the Nearshore industry to evolve faster and greater than ever before. USMCA deal will be periodically evaluated and assessed to ensure it is up to date with emerging technologies and digital innovation trends.
Many software development projects will require constant exchange of private and sensitive company information, that's why it's essential to choose an outsourcing location that ensures the highest standards of intellectual property protection, as well as to consider all potential risks seriously. The decision you make when enlisting extended team members for your development project, could mean the difference between ensuring the security of the ideas and hard-earned creations behind the growth and success of your business – and losing them to unfair competition.
Your safest bet is to team up with a software development company that fully understands IP privacy and protection laws in the United States and abroad. iTexico is a software development company that offers multidisciplinary teams as a service, leveraging the Nearshore model. Their staff understands how to protect and execute intellectual property rights through development projects. If you want to learn more about iTexico and how it delivers digital transformation safely and securely, visit their website.