Nearshore: Why Mexico Meets the Demands for Mobile App Development
‪‪
With the boom of mobile applications across fields such as retail, field services, logistics, manufacturing, marketing, etc. and with businesses gaining more interest to be a part of this universe, engineers and designers specialized in mobile app development and user experience are in short supply. Since so many companies in the US are scrambling to add development staff, or even outsource their development, the right talent pool is not growing fast enough to meet the current demand.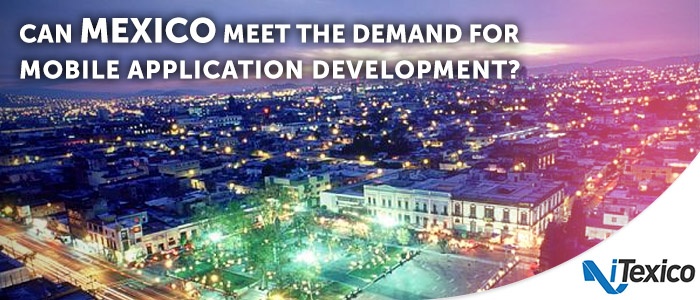 Troubles Finding Development Experts
It's not just in the US; technology companies in countries such as India are experiencing talent squeezes across the board. The demand for mobile application development has emerged too quickly for the workforce education to keep up with that rhythm. Companies, therefore, have had to increase expenses to train their staff and increase the wages to retain existing talent. This is also resulting in high employee attrition rates and talent poaching, as companies struggle to meet demand. The end result is the increased costs of development and support in addition to delayed projects, which can impact revenue, profits and productivity.
Sometimes it isn't just about finding the right talent but sometimes it's also about the cost of hiring the proper staff. Since the number of people that have a solid expertise in mobile development, it's perfectly natural that the rates that such person could ask for will be elevated. That's when companies start to look up for external companies to help them to complete their goals.
Why Mexico Can Do It
For companies in North America that choose to work with development partner companies in mobile technologies, working with companies in Mexico have recently emerged as a very viable option. Teams in Mexico can work collaboratively with clients in the same time zone, in addition to convenient face-to-face interactions. Economics also work in the favor of U.S.-based companies resulting in cost effective solutions.
Mexican universities graduate over 100,000 engineers every year. The emerging talent of bi-lingual software engineers is more focused on mobile and other current technologies like cloud, analytics and social media. Companies in Mexico are also aggressively training this new breed of software engineers to meet the growing demand. These initiatives are being supported by the government, as they realize the opportunity to grow their economies, penetrate new markets, compete globally and create high paying jobs. For example, iTexico, has been conducting monthly training classes in mobile technologies including iOS, Android and Appcelerator Titanium in Guadalajara, Mexico. These two to five day classes are frequently sponsored by the State of Jalisco and are usually oversubscribed. These classes have become so popular that we have expanded them to Chile and Argentina. There are plans to conduct similar classes in other cities in Mexico and even make it a part of the college curriculum in leading education institutions. To date we have trained over 500 mobile developers.
We expect to see more initiatives like these not just in Mexico but other developing IT markets and it is opening up opportunities to businesses that provide training services–especially certification training in leading technologies. We are also seeing a trend in hiring young college graduates as interns and equipping them with the right skills early on in their careers through training and pairing them with experienced mentors on existing live projects.
I would like to hear from you about your experience. How is your company dealing with this growing demand for mobile software developers?
About the Author
Anurag Kumar is a global technology and management professional with a talent for solving complex business problems. He has worked with Global 500 companies and pre-investment startups in US, India and Mexico. He is the CEO and Co-Founder of iTexico, which is his fifth technology startup. In addition to iTexico, he is a board member for two non-profit organizations.