Wearable Tech Part 1 - The Smartwatch, a Mobile App's Next Home
Wearable technology is on everyone's heads these days (no pun intended). From the smartwatch to smart glasses up until highly advanced military equipment (like the US Government's TALOS project) it feels like we're just starting to see what is going to be the next big thing in mobile technology and of course, mobile app and mobile app developers will be a big part of this movement in the near future.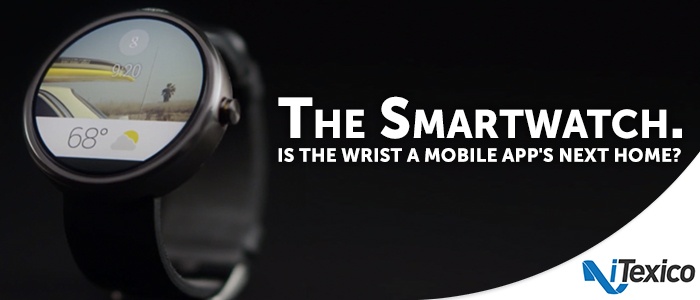 What is Wearable Tech?
Wearable technology refers to those gadgets that can be worn by the user like garments. The term has been mostly used to describe things like watches, bracers and glasses with connectivity features and some sort of media creation / consumption. This term has acquired considerable popularity recently and seems like it's become an attractive market for the big tech giants like Google and Samsung. However these implementations are only the first forms of modern technology adapting to the user's body and lifestyle.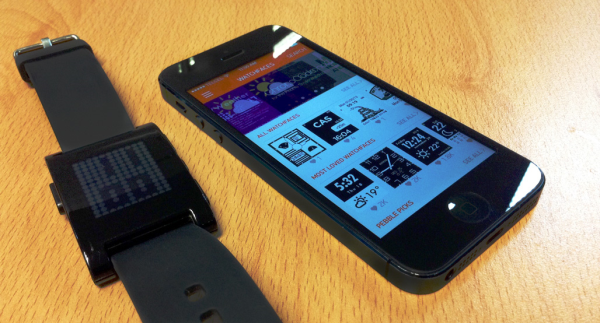 "Smart" Watches: The First Attempts
The smartwatch has been around for longer than most people think, with the first attempts going back to the decade of 1970 and 1980 where brands like Pulsar, Casio and Seiko started to ship watches that would do way more than just display the current time. After these "first attempts" of creating what manufacturers though would be the next best thing in mobile technology, the wearable as we know them today got a period of oblivion, giving other gadgets like the smartphone, the tablet and the mobile app market their time to shine.
Pebble and the Rise of the Smartwatch
After the big companies like Apple and Google created a mobile-first world where mobile operating systems and mobile apps became part of everyone's lives, other companies began to ask themselves the question: "What is next?", the term Wearable Tech became a thing and the whole silicon valley turned their heads towards accessories that once were thought belonged only to sci-fi movies: the smartwatch was back.
Pebble, a small startup in the Silicon Valley successfully completed a Kickstarter campaign were nearly 69 thousand people pledged an astonishing more than 10 million dollars to make the Pebble Smartwatch one of the biggest crowdfunding stories yet.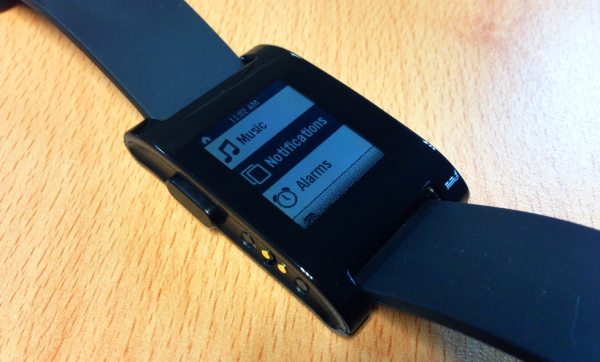 The Pebble smartwatch soon gained a lot of traction in the US market as well as in some international markets where the company was also shipping pre-orders. After launching with some distributors and large chain stores like Best Buy and Target, Pebble launched their Pebble Steel, a Pebble with a nicer metal enclosure featuring the same hardware as their original Pebble.
The Sony Smartwatch, Samsung Gear and the Rumored Apple iWatch
Soon after Pebble successfully entered the Smartphone arena, the big players quickly realized that the market was reaching a point of awareness where a smartwatch might be the right product to bet on. Sony launched its own version of the smartwatch as well as Samsung with its first generation of the galaxy gear, a fully-feature watch, which would only work with Galaxy smartphones running Android. The Galaxy gear, while being praised for the technology achievements and extensive number of features; was quickly criticized by the specialized press for being heavy, limited and with a lot to be desired in autonomy and design.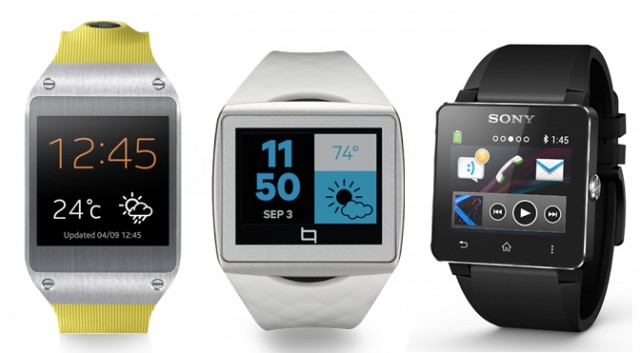 Image:
ExtremeTech
The one benchmark that the general market is waiting for is Apple. It's has been long rumored that Apple will be releasing a smartwatch, supposedly called the "iWatch" sometime in 2014. With Apple's history in disrupting existing markets to establish their own version of a product, developers and users alike are eager to see what Apple has in store for us this year. Will this be the year of the smartwatch? Odds say it is.
Mobile Apps Will No Longer Be Only for Phones or Tablets
With the rise of the Smartwatch, the question for mobile app developers is: "Why should I develop for these new, untested devices?".
If recent history in tech has proven something is that getting into these tech revolutions faster has been a highly successful career move for software developers. When the App Store launched, the lack of competition let mobile app developers with innovative ideas to get good traction with early adopters, to evolve and adapt with the market. We can expect something very similar with the Smartwatch phenomenon. Most likely vendors like Apple and Google will allow existing mobile app developers to easily transition from one platform to another as well as other vendors will allow developers to easily create mobile apps to extend to the wrist. Operating systems like iOS, Android, Tizen and proprietary ones like the Pebble will allow their community of developers to take advantage of the possibilities that come with having a watch that can do… well, lots and lots of things.
Extending Your Product to the Wrist
If you have an iPad or tablet, an iPhone, Android or Windows phone, a laptop and a desktop computer you might feel a bit overwhelmed with the possibility of having yet another screen with you all the time, one more device to keep track of and you might be right, it all depends on how this new devices adapts to your lifestyle.
One thing I found that smartwatches like the Pebble do really well is to integrate to your existing ecosystem of apps without becoming a standalone device that you need to keep updated and spend time on.
Pebble's app store allows developers to create mobile applications that act as an extension of the main app; it allows to perform simple task without having to take out your phone and do it from there. Things like checking in on Foursquare, reading a Tweet, quickly going through your recent messages or emails, accepting or rejecting a phone call, that's where the Pebble really succeeds at.
The mobile market as it is will probably not allow another device to take over and steal the smartphone's thunder. There is simply still way too much that the smartphone does better that any other device and for those other simple, complementary tasks is where devices like the smartwatch can really shine. Maybe this will change in the future, but for now I just don't see myself playing games on my watch, or composing a tweet. It's up to mobile app developers to make this ecosystem work seamlessly and define what the future brings for users and pros, for executives and students, for artists and engineers.
UPDATE: Right before this article was published, Google announced their take on smartwatch technology with Android Wear. This approach basically follows what I discussed on this article, which is basically using the smartwatch as an extension of the mobile experience from your smartphone. With the Android Wear SDK, android app developers can get the developer preview and start creating apps for Android Wear that extend their existing Android apps. Below is the Android Wear first video as made available directly by Google:
Next Up: Google Glass and Extending the Human Vision
In an upcoming blogpost we will talk about the other wearable trend, glasses. We'll review the Google Glass and analyze how all these things fit together. Stay tuned!
David Sandoval is an entrepreneur and UX/UI designer with more than 7 years of experience in web application and mobile app design. He holds a Bachelor in Information Systems and an MBA in Marketing by La Trobe University in Melbourne Australia.