5 Ways Custom Software Development Can Improve your Business
Where there used to be only commercial off-the-shelf software, also called COTS or OTS software, companies of all sizes and industries are now trying on "bespoke" or custom solutions.
Off-the-shelf software meets the overlapping needs of a composite, bell-curve customer. For example, Microsoft Office and Google Suite provide basic business communications tools, Slack offers advanced chat and VoIP, and Salesforce supports robust order management and reporting.
These off-the-shelf tools prove useful for millions of business customers, but because they target overlapping needs, they inevitably leave every business with at least a few needs unmet.
Sometimes, those coverage gaps become huge pain points and productivity killers. Other times, they simply represent ripe opportunities to creatively evolve a business.
Custom software development builds programs from the ground up to meet the hyper-specific requirements of your business. The industry is mature, with countless providers poised to help your business make rapid progress toward its goals.
Most Common Types of Custom Software
As long as an engineer can design it, custom software can do literally any job you want it to. But even across business verticals, custom software generally falls into three main uses with common goals. Some custom software integrates these uses into one deliverable.
Employee-facing Software to Streamline Internal Processes
Ideally, custom internal software automates time-consuming, labor-intensive processes such as organizing and storing information, generating custom analytics, and tracking projects.
Examples: Accounting software, cloud backup, sales entry databases, project management platforms
Partner-facing Software to Streamline Internal Processes and Improve Relationships with Business Partners
Like employee-facing solutions, partner-facing software optimizes internal processes. It also gives partners a positive, polished experience interacting with your company.
Examples: Invoicing software, order management systems, scheduling software
Customer-facing Software to Enhance the End-user Experience
End-user apps and programs usually become part of the product or service you offer. For this category, fewer off-the-shelf solutions are available. You either have the skills and staff to build your product yourself or hire out instead.
Examples: Patient portals, e-commerce websites, mobile apps for any business you can think of
How Custom Software Development Can Benefit your Business

1. Increases Efficiency and Raises your Standard of Performance
In a perfect world, custom software provides all the features you need and none of the features you don't. It also means a higher quality of work, because it reduces human error. Having staff and processes that run like a well-oiled machine leaves room for innovation and excellent service.
Custom software development also improves efficiency and performance through better tech support. You'll most likely have a dedicated support team as part of the contracted services, so when you run into issues, you won't have to rely on forums for answers or wait days for a response.
2. Saves Costs Over Time
Building custom software takes more labor than off-the-shelf solutions, and providers usually charge a portion up front instead of billing monthly. Plus, despite the higher bill, you may not be able to use the software for several months.
But once it's finished, if your new software creates enough efficiencies, it could save you in wages what extra you spent on the custom option—or it could attract new business, making up the difference in revenue instead.
It's hard to predict when the tipping point to "worth it" happens, so you have to make an educated guess. Gather quotes, honestly assess your current cash flow, and decide what level of risk you're comfortable with (as with any other investment).
It's worth noting that you may be able to negotiate price. If you're concerned about price, ask about launching your project in phases so you can manage the costs better. Also, it's worth checking out software development companies outside of the U.S. that may provide a more cost competitive experience overall.
Check out our Nearshore Teams Cost Calculator and compare rates of software development teams in Mexico to teams in top U.S. regions.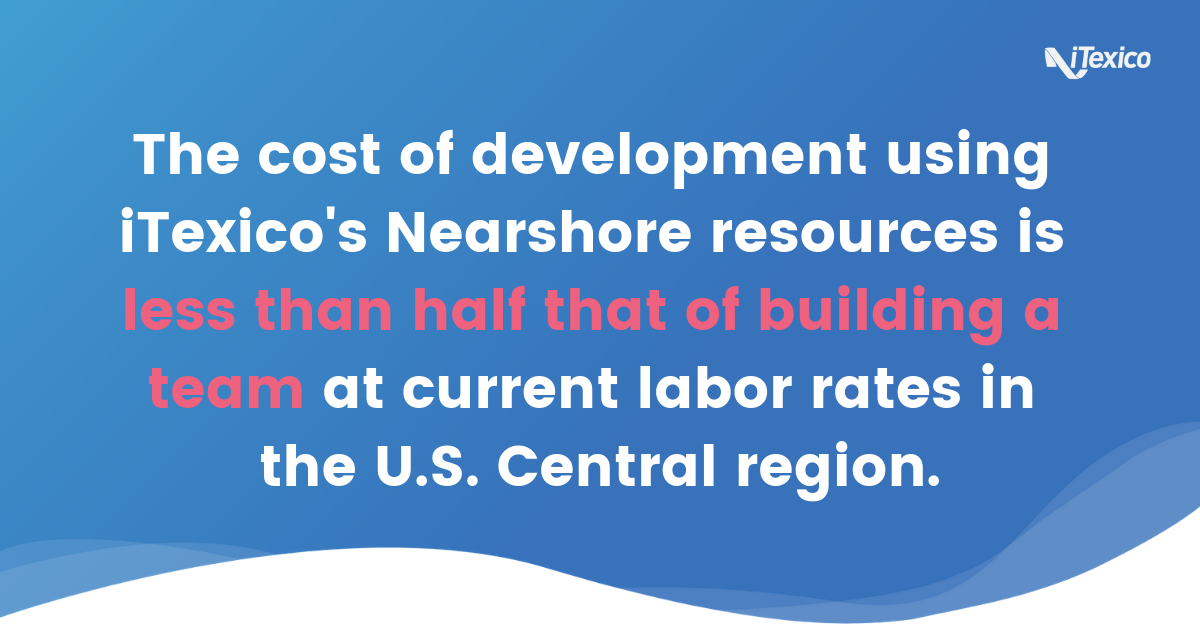 3. Improves Customer, Client, and Employee Satisfaction
Removing roadblocks for employees can lower their stress levels. Offering sophisticated services to your customers can make them enthusiastic, repeat buyers and evangelists, not just someone who bought something from you once.
When you launch your new software, especially if it's internal software for complex business processes, employees and clients may experience a learning curve. It's a natural part of the process, but you can curb the growing pains by asking the software developer to focus on intuitive UX during the build.
4. Supports Business Expansion Much More Effectively
If you plan to add more services, locations, or employees in the next few years, custom software may help that transition go more smoothly.
Off-the-shelf services update and evolve much more slowly than custom solutions. When it comes to requesting changes and accommodations, you're at the mercy of a long queue, and your concerns may not be addressed at all, let alone to your exact specifications.
Custom software can be built to be updated easily. And if you create this amazing solution and then in a year need changes you couldn't have predicted, your development team can iterate without having to learn the background of the first project.
5. Gives You a Competitive Edge
You and your competitors probably use the same set of off-the-shelf software(s). When you make the switch to custom software, you give yourself the opportunity to solve problems your competitors can't.
As more businesses adopt custom software, your lead may decrease a little. But since your program fits your exact business needs, not your competitors', it will still help you function the best you can. And you'll keep the edge over competitors who never customize.
Plus, to really clinch that competitive edge, you can buy the rights to your custom code. That's right—you can usually negotiate ownership of the intellectual property so that you have complete control over who else uses the software and how it changes over time.
For example, in 1982, the Carnegie Mellon Computer Science department designed the first IoT software: a Coke machine program that counted inventory, detected time-in-machine of each can so buyers didn't have to drink warm soda, and displayed the results on the still-infant internet.
This simple Coke machine code didn't launch a new business, but after almost 40 years, it still keeps students and staff caffeinated. And it's made the department famous. Just imagine if that Coke machine and its custom software were your property.
Where to Find a Custom Software Development Company
How should a company select an outsourcing provider? Start with the old reliable web search. Read reviews and case studies to see examples of what's possible. Once you get an idea of the available offerings, make a list of your priorities (locally based? specialized in your industry?) and get quotes from the providers that meet your top criteria. There are many benefits to outsourcing software development.
Also try asking your professional social networks for referrals. You'll make strides faster if you can pick the brain of someone with firsthand experience working with a bespoke software provider.
How to Know if Custom Software is Right for You
Businesses rely on hundreds of software programs to operate every day, and even at the enterprise level, not all of them are custom.
Don't sign a custom software development contract just because the Fortune 500 company you idolize shows up in a case study. Clarify with yourself what problems you want to solve with custom software, or what ambitions you want to chase, to see the best return on your investment.
To do that, keep track of your pain points with your existing softwares. Brainstorm a list of what you wish your programs could do, even if you're not sure it's possible. And have a conversation with a couple custom software development agencies to see what ideas they have for you.
You're not necessarily behind just because you don't use custom software. You just may have potential you haven't realized is there unless you take the first step and explore. Researching your outsourcing possibilities sets the final stage when exploring pros and cons of developing your software. We personally prefer nearshore outsourcing due to its overwhelming benefits in comparison to offshore or even onshore options. If you want to learn more about what nearshore can do for you, feel free to contact us.
If it's not in your stars yet, put custom software development on your list of future business goals and revisit next year, in the meanti
Author's Bio
Bruna Ostheimer is a freelance writer, who specializes in content related to technology, internet, and business. She has a Bachelor of Arts degree in communications and enjoys using it to bring awareness to topics she's passionate about. She enjoys kicking back with a good book, travelling, and seeing sunsets. Read more of Bruna's writing here.
Hand-Picked Related Reads For You