How to Improve Nearshore: A CEO's Travels to Guadalajara Mexico
I wanted to capture the highlights of my visit to Guadalajara during the week of January 19, 2014. It was an opportunity to meet the new team members and also I had the opportunity to be part of Immercio to improve Nearshore practices.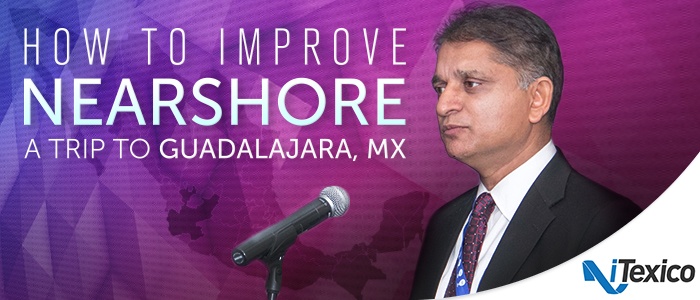 We're always looking to be up to date not only with technologies for development but also in business structures to optimize the work force. This is especially important when you have a delivery center in another country. Thankfully, in my case, is just 3 hours away. When I visit Guadalajara, the management team always implements new processes and technologies. That way, companies can continue to grow at the same or better pace.
Having climate surveys led by the management team also helps us to take actions for improvement. This is how a delivery center can continue to work and improve all the time.
Another relevant point for Nearshore companies is to get the best talent outside, specially if you are a technology company where developers are, sometimes, short in number. When it comes to big companies with world-class services, the strength of any company lies in its diversity. A company as diverse as iTexico shows its strength and capability of solving different issues by having different approaches. And what better than having members from Mexico, US, UK, Pakistan, India, France and Belgium.
On Thursday 23rd and Friday 24th, Guillermo, COO of iTexico and I were invited to participate in Immercio, the inaugural annual conference by the Nearshore Executive Alliance in Guadalajara. Delegates from all over Latin America and the United States enjoyed a full day of knowledge exchange and interaction that will lead to the development of strategic relationships in the Nearshore community.
Atul Vashistha, Chairman and CEO of Neo Group kicked off the event with a presentation on how to build trust especially in a virtual and global world. Contribution, engagement, passion and transparency are required to build that "halo of trust" that enables deeper collaboration among the leaders in the Nearshore outsourcing industry.
I was privileged to introduce Theresa Rice, Managing Director at JeffreyGroup. Her talk used some elements of Soccer (and the upcoming Soccer World Cup) to attract Foreign Direct Investment to Latin America. The key takeaways? Stop playing defense (don't let defending take priority over promoting); be a team player (avoid power plays and seek coaching); be fast on your feet (decentralize); find new moves (identify new promotion strategies); mix youth and experience and remember that the world is your playing field!
Image: Immercio by Nearshore Executive Alliance
There were many other distinguished speakers and guests including Ann Harts, Principal at Hickey and Associates, DJ Edgerton (Founder and CEO of Zemoga), Dawn Evans (President and CEO, Sourcing Interests Group), Eric Ikeda (VP, Development Services-IT, HP), Carolina Marin (Sr. Operations Manager, Stewart Lender Services), Alejandro Camino, VP of Marketing and Communications at Softtek, Christopher Wilson, Associate at the Mexico Institute, Alfredo Pacheco (CEO of CANIETI), Santiago Pinzon (Executive Director at ANDI) and Patrick Stamm (VP Global Operations and Payment Integrity at UnitedHealthcare)
After a long, productive day of sessions, delegates enjoyed the opportunity to continue to network with their peers and discover the "Magical Town" of Tequila: the beverage, the village and the tradition. This fun, relationship-building tour took us through the process of making tequila, from harvest to fermentation to distillation to bottling.
It was all very informative, we are even more confident of the success we can achieve in our business and being the leading IT services company in Latin America serving global clients. I can wait to be part of the next edition.
Anurag Kumar is a global technology and management professional with a talent for solving complex business problems. He has worked with Global 500 companies and pre-investment startups in US, India and Mexico. He is the CEO and Co-Founder of iTexico, which is his fifth technology startup. In addition to iTexico, he is a board member for two non-profit organizations.