Why Software Project Management is Just Like Getting Married
Before starting, I would like to clarify that I'm not a Project Manager. So maybe you are asking yourself, why a developer is writing about project management? Well, for starters, as a developer we work very closely with the project managers when we start working on a new project. Secondly, some time ago a friend of mine told me that planning your wedding is like managing a project. To be honest I didn't believe that phrase... until I got married a little while ago. This is a personal experience that made me think about project management and I wanted to share it with you all.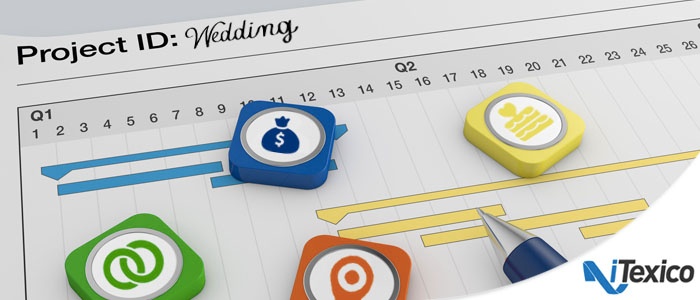 The Basic Project Management Structure
A basic project management structure is based on 5 points: initiating, planning, executing, monitoring, controlling and closing. It is a structure that can be applied to many things such as a wedding and if you follow right all these steps everything will be alright. So let's start with this weird and fun analogy.
Imagine that a client calls you for a big project, you are free to choose the technology, platform and design. No matter what you choose, the client will accept the product and the client just tells you when the product has to be ready and the budget it has to stay within.
You start with the technology, or in my case you choose the places the where the wedding will take place. You have to start looking for the developers that will make it happen... or in this case your providers (Photographers, catering services, flowers, transportation, invitations, etc.) to reach the target on what you have in mind. You have a lot of meetings and interviews with a lot of providers. You have decided to be the designer, a way to choose the User Experience and User Design (even if you don't know anything or little about it), and your testers (or in my case, the guests).
Ok, so now you have decided on all the resources according to their experience, work and of course cost to respect the budget and not make this project more expensive than you are allowed, or in my case more expensive that we can afford. In my personal experience, here is where I believed that phrase my friend told me.
What's next? Well, you have to get all the resources to work, telling what ideas you have, asking for ideas to make the project reach the target better, appointments with the resources every certain time, pay, view how is everything going, anyway, everything a Project Manager has to take care of. Maybe the analogy for this would be to have a methodology, like Scrum or Agile.
So now, imagine that the deadline is getting closer, you CANNOT DELAY!, not even for a single minute. So maybe the stress is starting to make presence, you want to have everything perfect, everything ready so the client would be as satisfied as possible.
The Big Day
So, the big day has come, and you are about to present the biggest project of your career (Or life), you are getting nervous and stressed out, hours before the presentation. As you start with your presentation, you realize everything is going well. There may be some details that your client didn't like at all, maybe something didn't happen as you thought or planned, but at the end the client told you that they couldn't be happier with the project and if something went wrong, they didn't notice.
So for the biggest moment of my life so far, and resuming this crazy analogy, my technologies were the church and the casino where the wedding took place. My developers were my photographer, the music guys, the catering service, and a great team that made everything possible. The clients of course, were my wife and I.
Now, my pay and reward is to live with that special one. And in this case I have to provide support and maintenance to this project, which is called marriage. Call me crazy, a fool, but I think that I learnt a lot of project management as I was planning my wedding. Taking care of a budget, selecting providers, taking care of timing, and selecting the right team. In my case at least there was no delay, which is one of the many responsibilities the Project Manager has.
Final Thoughts
As I said in the beginning, I'm not a project manager, but I think I have some experience about it. What do you think? Am I right? Or am I just a crazy guy who is happy and feels lucky for being part of this great project called marriage?
P.S: My intention is not to take down the job of all the great project managers at iTexico :)
About the Author
Pablo V. is a Front End Developer with 7+ years of experience. He has a Bachelor's degree in Information systems. He loves to play video games, watch movies and funny TV Shows.