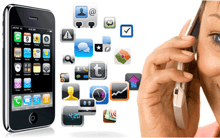 Mobile Applications: A GREAT OPPORTUNITY
Since IBM Simon was released in 1993 there has been a non-stop race for creating better mobile phones with more advanced computing ability and connectivity. Every year we see enormous steps in smartphones technology giving consumers the opportunity to be connected with others in personal and professional ways. Today, smartphones have become a fundamental part of people's lives. What used to be a luxury is now a necessity for many people.
As advanced mobile devices experience an increasing worldwide rate of adoption, there is another market that is growing incredibly fast: the mobile applications market. Angry Birds anyone?
The most popular App store is Apple's App Store. On most stores, Application developers can propose and publish their applications, and are rewarded with a revenue share of the sale price. Several telecom giants have also opened their own apps stores for their users; there are currently 70 stores and counting, with more than 2 million applications available for communications, games, multimedia, productivity, travel, utility purposes, etc.
According to MarketsandMarkets, world mobile applications market was $6.8 billion in 2010, but will grow steadily over the next years to reach $25 billion by 2015 and Apple's App Store will account for 20.5% of total revenues.
This growth in the size of the Mobile Applications Market will be driven largely by:
New players like Google, Nokia and RIM
A Decreasing mobile data plans cost
Growth in demand for smartphones
Improvements to native applications' usability
The ability for publishers to offer free and low-cost apps supported by ads.
This is very good news for all players in the Mobile App ecosystem. Everyone from App publishers, Mobile advertisers, Android Developers, iPhone and iPad developers will benefit from the rising tide of the market.