What Every Technology Decision Maker Should Know About Offshore Development
Is offshore outsourcing for me?
For business professionals entrusted with the keys to the enterprise, yielding control to outside service providers can, at times, be quite scary. With so much riding on our mission-critical workloads, it can seem unfathomable to allow external resources to get involved.
It can seem even more nerve-wracking when those workloads are outsourced to an offshore development center -- with key responsibilities in the hands of people who may not share our time zone, culture or language. And it's true -- in the past, some malefactors have given the concept of offshoring a bad reputation -- this article spotlights some of the struggles that companies experienced in the early days of offshoring.
Can offshore development slow down innovation?
Other detractors of offshore development complain that sending development overseas can somehow have a negative economic impact, or, even worse -- that having such a disconnect from our development teams and projects can sap the innovation from our company.
But, it's a fair question: Are offshore outsourcing and software development right for my company? Are there key benefits that I'm just not aware of? Are there a lot of outsourcing options? If so, how many offshore development centers are there? And, is there a way to overcome my fear of working with far-flung resources who simply seem misaligned with my objectives? Let's explore this together.
The truth about offshore development
First, the reality is plain: Most businesses could not function efficiently, or be competitive in today's business environment, without the help of outsourcing offshore. In fact, more than 90 percent of U.S. businesses are either entering into, or extending, contracts for outsourced services -- and nearly 80 percent of businesses feel that this partnership is a net positive for their enterprise.
IT offshoring constitutes one of the areas of greatest growth in the outsourcing segment. According to Medium, IT offshoring typically falls into four types of deployments:
Complete IT Solution: Outsourcing the entire IT footprint to an offshore resource.
Business Process Solutions: Engaging an offshore development center to manage aspects of the business, such as data processing, security, etc.
Software Research and Development: Using offshore developers to focus on the creation of software or application products.
Knowledge Process Outsourcing: Utilizing an offshore development center to plug gaps in a company's expertise around certain subject matters or workload.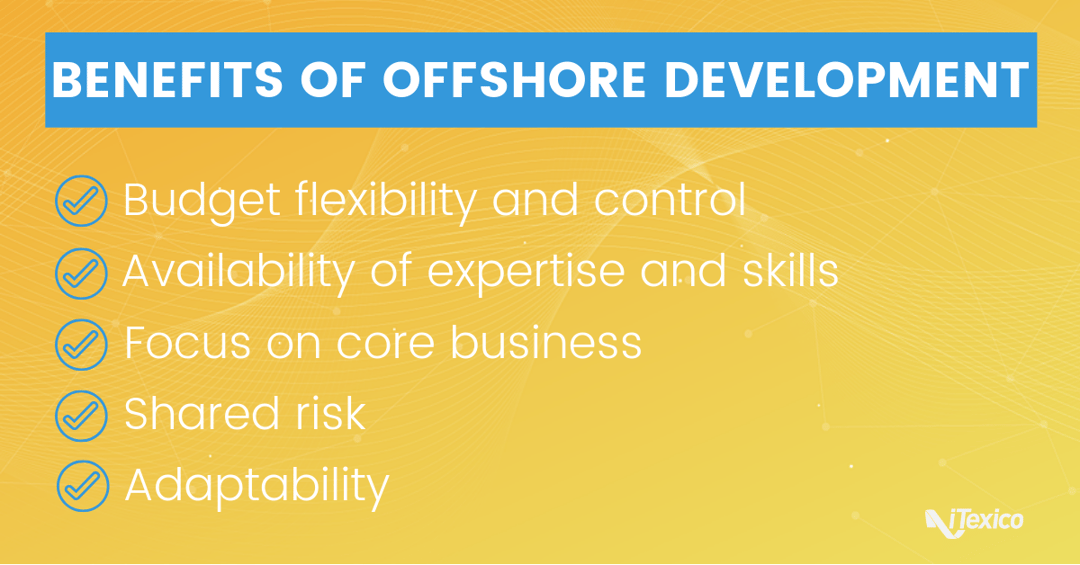 That same Medium article spotlighted five key reasons why businesses seek to offshore all or part of their company's IT responsibilities:
Greater budget flexibility and control: Paying only for the services they need, while avoiding the costs of hiring and training specialized staff
Expertise: Obtaining specific knowledge and understanding where best-in-class insights or skills are needed
Focus: Offshoring allows the in-house staff to concentrate on core business processes and more native skills
Shared risk: Entrusting the offshoring company to do what they say they can, without shouldering the risk that an in-house team may fall short
Adaptability: Adjusting to trends that affect scalability of resources
What's the best offshoring option for me?
Convinced yet? You may still be struggling with the idea of sending your mission-critical workloads to some far-flung destination. That's why the concept of nearshoring -- the use of offshore resources in a nearby country, like Mexico -- provides the gentlest entree into this domain. Explore further the differences between offshore, nearshore and onshore.
Using such "nearshore" resources -- a key pillar of our business model here at iTexico -- offers outstanding benefits in terms of culture, time zone and talent. In fact, a recent iTexico blog helps to dispel several "untruths" about nearshoring, while underscoring the advantages of working with the growing IT offshore talent pool in Mexico.
Ready to consider offshoring for your enterprise? Give us a call here at iTexico.