Is Mobile Development Dead?
Our Experience at Innotech San Antonio
A couple of days ago, I caught myself thinking - Is Mobile Dead? Are Consumers & Enterprises tired of Mobile devices & new Apps? Have we reached the tipping point into "meh" territory, when it comes to Mobile Apps? This is an unusual thought for someone who is part of a mobile app development company. Here's the backstory behind those thoughts.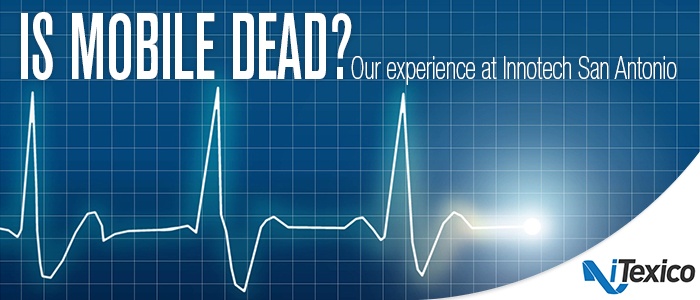 So last Wednesday, April 2nd, we had a booth at Innotech in San Antonio. For those of you unfamiliar with Innotech, it is "an annual conference and exhibition built specifically for business and technology executives, highlighting the region's innovation and technology development opportunities by showcasing pioneering products and services."
There were a lot of exhibitors focused on IT Security, Cloud Services, Data Center, & Virtualization. But other than iTexico, there were no companies talking about Mobile Development, nor were there any Startups trying to promote their Mobile Apps. This was highly unusual compared to my experience at conferences in other cities. What was going on?
We at iTexico, have long had a thesis about the Mobile adoption cycle. We would go from "Holy Cow!!" to "That is Cool" to "Show me the Value".
We had our "Holy Cow!!" moment when the Magician showed us his first iPhone.
We had our "That is Cool" moments as we followed the latest updates in iPhones, Android Phones as well as Windows Phone. But, mobile phones have had only incremental improvements over the last 2-3 years. A better screen, more power, better cameras etc. The "That is cool" phase is getting over too.
And now, we are starting to enter into the "Show me the Value" phase. Now, we want real value from our Apps, as Consumers & in Enterprises. Enterprises want to use it to reduce costs, drive revenues, improve productivity - basically some demonstrable, measurable, tangible benefit.
So what was up in San Antonio? Did we skip this phase? Was our hypothesis wrong? Or maybe, the problem lay in San Antonio itself.
We decided to see if there are other companies offering Mobile development in San Antonio. A quick Google Search showed only one. That explained why there were no other Mobile Application Development companies as exhibitors at Innotech.
That brought to mind another question. Why are there no IT services companies offering Mobile App Development? Was there any demand at all?
We looked at a couple of job boards and typed in iOS developers. Indeed.com came up with a grand total of 7 jobs. 7 Jobs? Out of which 2 were for out of state companies, 4 were from recruiters & exactly 2 for companies - Valero & USAA.
It was clear that there is no supply of mobile development companies in San Antonio, because there is no demand. By contrast, there are 517 new jobs in the Bay Area for iOS development.
Out of curiosity, I clicked on the Valero job. They were looking for someone with 8 years of SAP experience, 3 years in ABAP/4, 3 years as a PM, 5 years as a UI designer, experience with jQuery & NodeJS, and of course with Mobile Application Development. In other words, Valero is looking for a Unicorn. It was the kind of job description you get, when someone from HR who has no clue about technology checks all the boxes on a committee's wishlist.
A quick Google search turns up the biggest companies in San Antonio - Valero, USAA, HEB, Whataburger, Rackspace, Tesoro, KCI, Clear Channel, & Nationwide Insurance. If these guys are not looking for Mobile development help yet, it means that at least these companies have not yet figured out how to leverage Smartphones in their businesses. This quick and dirty research tells me, that quite a few mainstream companies have still not figured out how to use Mobile to add value to their businesses. That is good news for companies like ours. We still have a long way to go, before we run out of work. Enterprise Mobile is not dead, it is not even born in San Antonio.
What do you think? Have large mainstream companies figured out what they want to do with Mobile? Is there still a long way to go, before most Enterprises come up with a coherent mobile strategy?
About the Author
Abhijeet Pradhan is a partner and CTO at iTexico and has worked in the technology and software industry for more than 15 years. He is passionate about Technology and its applications to everyday consumer and business life. He was CTO a mobile marketing platform for small businesses and also co-founded Classof1, a leading online tutoring company.