6 minute read

5 Mistakes to Avoid in QA and Software Testing
When software development is considered, testing is known to be an integral part and it should not be rushed. Usually, teams tend to ignore the substantial errors or issues in the initial stage which later interfere in the whole testing process and the quality of the product is compromised. To ensure that your team can perform the assigned duty and can promise to provide an error-free product try to communicate these 5 basics to them. Usually, testing teams do not put much focus on test case management and rush over the whole testing process just to meet the deadline. In this way, a lot of loopholes slip through which later causes issues. Releasing a product filled with errors not only increases the cost but also affects the repute of the business. Below mentioned are five areas that can help businesses to carry out the testing job effectively and it helps to ensure promising results.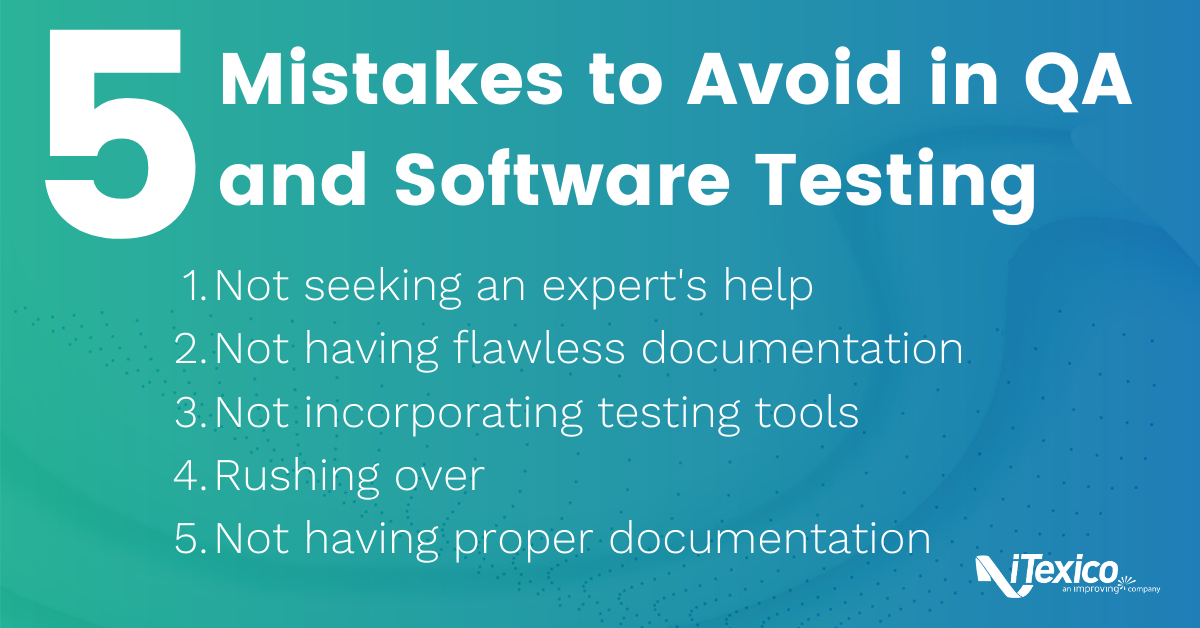 5 Mistakes to Avoid for Effective Software Testing
1. Not Seeking an Expert's Help
It has been observed that most of the organizations consult a developer or some analyst to perform the testing job rather than hiring a tester for it. Testing is not as easy as it seems to be and there are protocols that need to be followed to ensure that the software is working as per requirements.
Expecting a developer to perform the testing is somehow similar to ask someone to proofread their own essay. Testers need to go through various stages that ensure that system is working fine. They start with a compact documentation process, create test cases, and then perform different testing types which prove to be compulsory to review all the requirements.
Outsourcing quality assurance and testing services is a good option for companies that don't have the needed talent in-house to perform this tasks, which allows for their teams to focus solely on their core functions while the extended QA and testing team can support to ensure quality of the digital products.
2. Not Having Flawless Documentation
It is a must to have detailed but to the point documentation which talks about all the requirements and functionalities of the project. Documentation is important for developers as well as testers as it helps to keep the entire team on the same page and in case of any confusion, the teams have something solid to refer to.
If you start working before completing the documentation then uncertainty might occur in the testing cycle and there are chances that the team might spend significant time testing similar functionalities while some major areas are not even touched during the testing process.
3. Not Incorporating Testing Tools
Once you set up a testing department or your team takes responsibility to perform testing from scratch then you should also look out for tools that can fit in your existing infrastructure and help you with an organized approach. For instance, businesses that have test case management tools, defect tracking tools, and project management tools can perform their duties more effectively while maintaining transparency. These tools also help to define job roles and tasks assigned to everyone so that a certain person is answerable for the assigned task and respect for every job role remains intact.
4. Rushing Over
Testing should always be done properly and enough time should be given to it. Some businesses reserve testing for the last phase which is the worst approach to go for. At this point, the entire system is developed, and fixing errors becomes somehow difficult and time taking. Also, testers go through a lot of pressure during this time as they are the only delay in the whole process.
Testing should be done with a structured approach and should be part of the process from the start. Once scope and requirements are defined, testers should be involved and perform testing after every deliverable, in this way balance is maintained and issues are fixed timely which won't create havoc in the later phase. When sufficient time is not given to the testing process then numerous mistakes are borne out which can have adverse effects on the whole project.
5. Not Having Proper Communication
Communication's importance can not be ignored at any point and is really important for the success of the project as well as business. Lack of communication between the developers and testers can result in a cold atmosphere due to which team members might feel that their efforts are not being acknowledged or are criticized unnecessarily.
There are chances that developers might feel threatened regarding their work from the testers or might act defensive in case errors are identified. Healthy and friendly communication can help to overcome such challenges and both parties can work as a team for the success of the project.
Conclusion
With these few easy tips, there are numerous mistakes that can be avoided by the developers and testers' side and they can work as a team to achieve the set targets. There is no perfect recipe for efficient working but with these quick and effective changes, one can easily excel. If you have a project that requires a dedicated quality assurance team of experts, drop us a line and we'll be glad to provide assistance.