10 Mobile Apps Statistics to Consider
Here are 10 very compelling statistics to consider now about the teeming, streaming world of mobile:
Desktop? What Desktop:

In the U.S. alone, 75% of citizens over the age of 13 have a smartphone. Miss the mobile consumer, and you're missing more than half of their online mindshare.
Searching the World (Wide Web): The smartphone was the jumping-off point for 80 percent of Internet searches last year – though ComScore noted that 57 percent of consumers were "multiscreening" – accessing the same site on the go and at the desk. A consistent experience, in this environment, is not just an option, but a requirement.
Go Native: Among those who use their phone to consume media, nearly 90 percent, according to Nielsen, prefer it in the auspices of a native mobile app. Only 11 percent of mobile users had the stomach to try to get the mobile website to cooperate.
App-plause!: The U.S. is the home of roughly 224 million monthly app users, according to the Search Engine Journal. And increasing sophistication in app development has sent the app retention rate (a measure of the number of times an app was used) By 2020, almost 75% of the global population will be connected by mobile.
Cashing in: Juniper Research predicts that 2 billion mobile users will have made a mobile purchase by the end of next year. And Internet Retailer observed that mobile shopping now constitutes about 30 percent of all eCommerce sales – and will continue at a torrid pace this year.
Down the "tubes": TV viewership, eMarketer found, has plummeted in the mobile era. Adults now spend about 48 percent of their day in front of some digital device (up 18 percent since 2010); while TV gains eyeballs about 36 percent of the remaining time.
Ad – and you will receive: 2016 is the year that mobile ad spend is predicted to top $100 billion for the first time – a 430 percent increase from 2013, according to eMarketer. The key driver? The sheer number of devices deployed globally.
Lights, camera – mobile: Video content is being gobbled up by mobile users at a stunning pace – topping 55 percent of late, according to a Cisco forecast. With 65 percent of the world's population considered visual learners, it's never been more important to deliver moving pictures to the small(est) screens.
Watch – and learn: Smartwatches -- the diminutive device that is dominating wrists worldwide, have already logged 9 percent of mobile searches in their short history, according to a SmartInsights study. Your app-spirations just got bigger – and smaller – at the same time.
It's ALWAYS there: 79 percent of Americans check their phones within 15 minutes of waking up. This means that potentially, your company's engagement begins with your prospective audience at the moment they're rubbing away the sandman.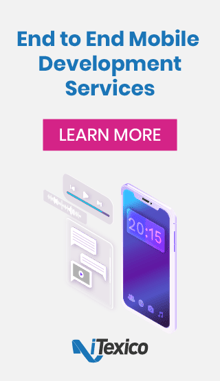 What are your plans for renewing your focus on mobile practice? Learn more about how iTexico can help to put together the best strategy for your mobile development projects.