iTexico at InnoTech 2012 Austin's Premiere Technology Innovation Expo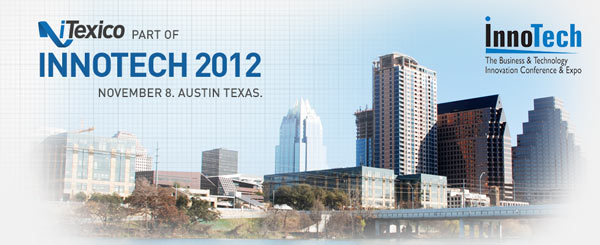 We are thrilled to invite you to InnoTech Austin 2012 Conference & Expo this Thursday November 8. InnoTech is the region's largest business technology event comprised of educational seminars, Special Events (like the eMarketing Summit, specifically designed for marketing professionals, the Austin CIO Summit & IT Executive Awards, for top level IT professionals only), hands-on demonstrations at the InnoTech Exhibits and, of course, limitless networking opportunities.
There will be tons of keynotes and opportunities for networking with many leaders in the technology industry. Of course, we'll be part of this grand event so if you're attending don't forget to visit us at booth 105 and learn all about our nearshore services in mobile development and extended teams.
Some of the conferences and topics that will be covered during the event are:
- Mobile Devices & Applications
- Cloud computing/Data Centers
- Big Data & Analytics
- SharePoint – Windows 8 – SQL2012
- Network & IT Security Track hosted by ISSA
- Virtualization
- Prizes including iPad, Kindle Fire, F1 Race Tickets and more
- InnoTech Happy 45-Minutes (great place to mingle over complimentary beverages and exhibits)
Update. The event was a great experience! Thank you all for coming and stopping by. We met some great people and we sincereley hope to see you again next time! Here's a couple of pictures from the event.