Improving's Culture of Trust: The Secret Behind Success

5 minute read
If you walk through the halls of some of Improving's fourteen offices across North America, you can find a powerful phrase imprinted on the walls: "Trust changes everything". Short but resounding, Improving's motto encapsulates their purpose and everything they stand for: a promise of trust to impact positively in their employees, clients, providers, stakeholders, and communities through the use of technology with a Conscious Capitalism approach.
As a software development and consulting company, providing digital innovation services is the core business of Improving, but the first job everyday for every Improver is to contribute and build an environment of trust. This stance takes on special importance during times when trust in technology and the IT industry is declining: in 2015, 71% of Americans considered tech companies had a positive impact in the United States, with that percentage dropping to 51% in 2019; and negative views of tech companies climbing from 17% to 33% (Pew Research). According to Edelman's 2020 Trust Barometer, worldwide respondents feel that technology is spinning out of control, with 61% of them agreeing that the pace of technology is too fast.
Improving's trajectory is in broad contrast to the above statistics, with the company being awarded Best Place to Work 10 years in a row in the different locations it operates. 94% of employees at Improving say it is a great place to work compared to 59% of employees at a typical U.S. based company. But how exactly has Improving cultivated such success in building trust and becoming an ideal place for its employees to develop their careers? Firstly, by nurturing personal and professional relationships that last, living out their core values: Excellence, Involvement, and Dedication.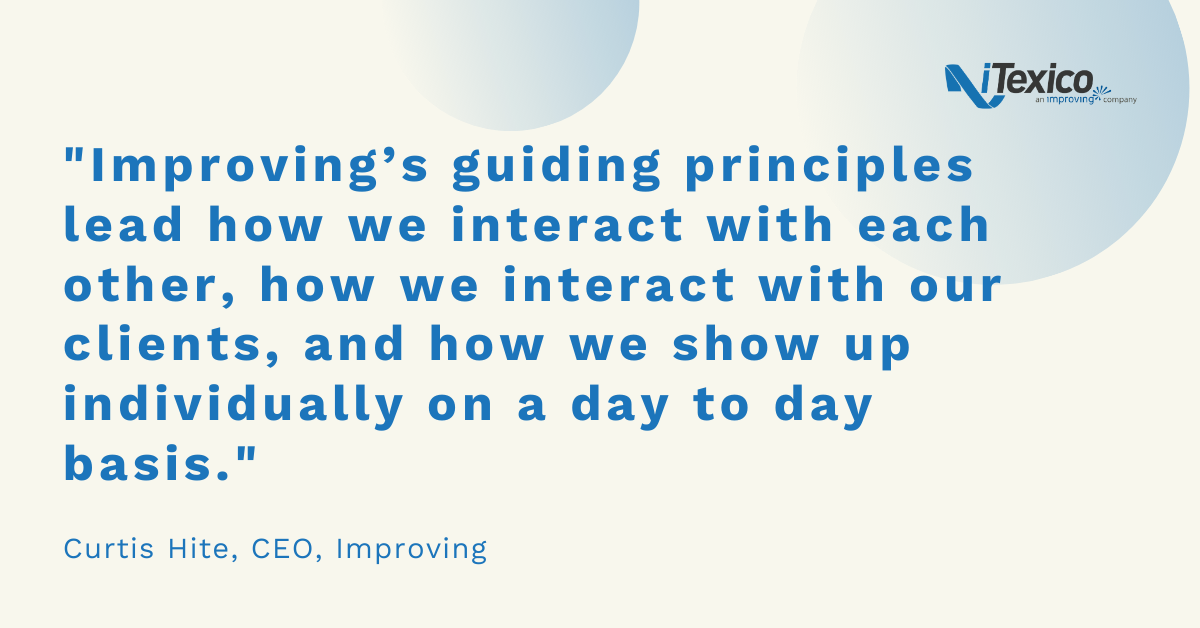 "I think that Improving is a particularly unique company to work at." Curtis Hite, Improving's CEO, mentions that while most companies give a fair amount of attention to their guiding principles, Improving has found a way to make this pervasive in the employees everyday lives: "On a weekly, if not a daily basis, Improving's guiding principles guide how we interact with each other, how we interact with our clients, and how we show up individually on a day to day basis. Our core values of excellence, involvement, and dedication; that excellence is not just an occasional act but it is a consistent habit, that our success over all the years is not attributed to just one, two or a handful of individuals but our success is a consequence of our collective involvement; and then this concept of dedication where we define dedication in a fairly unique way: it's thinking of others a little more without thinking less of yourself. And these guiding principles seem to be the essence of Improving and we attract people because of our particular attention to them. In addition, we are active members of a Conscious Capitalism community. This is a community of mindful leaders across the world that are dedicated to showing the benefits of business, the benefits of capitalism, and Improving has dedicated time and resources to live in this principle and this philosophy of conscious business."
Improving's Guiding Principles
Our Philosophy: Conscious Capitalism
Conscious Capitalism promotes that businesses should operate ethically whilst pursuing profits, benefitting both human beings and the environment. The concept was coined by John Mackey, Whole Foods co-founder, and Raj Sisodia, professor of marketing at Bentley University.
Our Ambition: Change the Perception of the IT Professional
We feel it's our duty to drive and maintain positive perceptions of the IT industry by delivering value through technology and digital innovation, exceeding our clients expectations on a daily basis; and, when needed, opportunely righting our wrongs.
Our Promise: Cultivate Environments of Trust
Improvers follow the 13 behaviors of trust mentioned in the book Speed of Trust by Stephen M.R. Covey:
Talk Straight
Demonstrate Respect
Create Transparency
Right Wrongs
Show Loyalty
Deliver Results
Get Better
Confront Reality
Clarify Expectations
Practice Accountability
Listen First
Keep Commitments
Extend Trust
Our Commitment: Create a Great Place to Work
Becoming a great place to work has been achieved by fostering positive atmospheres where honest and open communication is encouraged and every Improver has the opportunity to share their ideas, learn, and help each other grow.
Our Identity: Core Values
Involvement: our success is a consequence of our
collective involvement. Greatness is never guaranteed, and it is rarely achieved by doing the minimum.
Excellence: not an occasional act, but a persistent habit. Build trust by continually exceeding the expectations of clients and coworkers.
Dedication: involves thinking of others more, without thinking less of ourselves. Be generous with your time, knowledge and experience.
Wrapping Up
iTexico has recently become a part of Improving, offering software development and digital services in a Nearshore delivery model with highly skilled talent in Mexico. We hope that anyone looking to join the Improving family is already familiar with our culture and passionate about delivering quality to our clients whilst extending trust. We count on our employees to walk along their leaders and be examples themselves of the Improving culture, knowing that together we can create something that is unique not only within our industry, but amongst many companies throughout the world.
If you are interested in joining our team of talented individuals in the Nearshore division of Improving, check out our careers section and see if there's an open spot with your name on it.