10 Cloud Computing Success Stories by Leveraging AWS and Azure
Transitioning to new innovations in software development often feels like taking a leap of faith. Setting aside all pretense of encouraging articles, sharp marketing, and apparent functionality, you may still be left scratching your head over whether or not this next step is the right one to make.
Cloud computing has been an innovation that has turned over new stones for businesses around the globe. In theory, it's a fascinating prospect, but what is theory without results? We're saying you shouldn't just take our word for it.
Rather than blind acceptance, we're providing ten examples of businesses that have thrived using cloud computing through the services provided by AWS and Azure. Whether you find these success stories to be reassurance or simply interesting, they're proof enough that cloud computing service models aren't just hot air.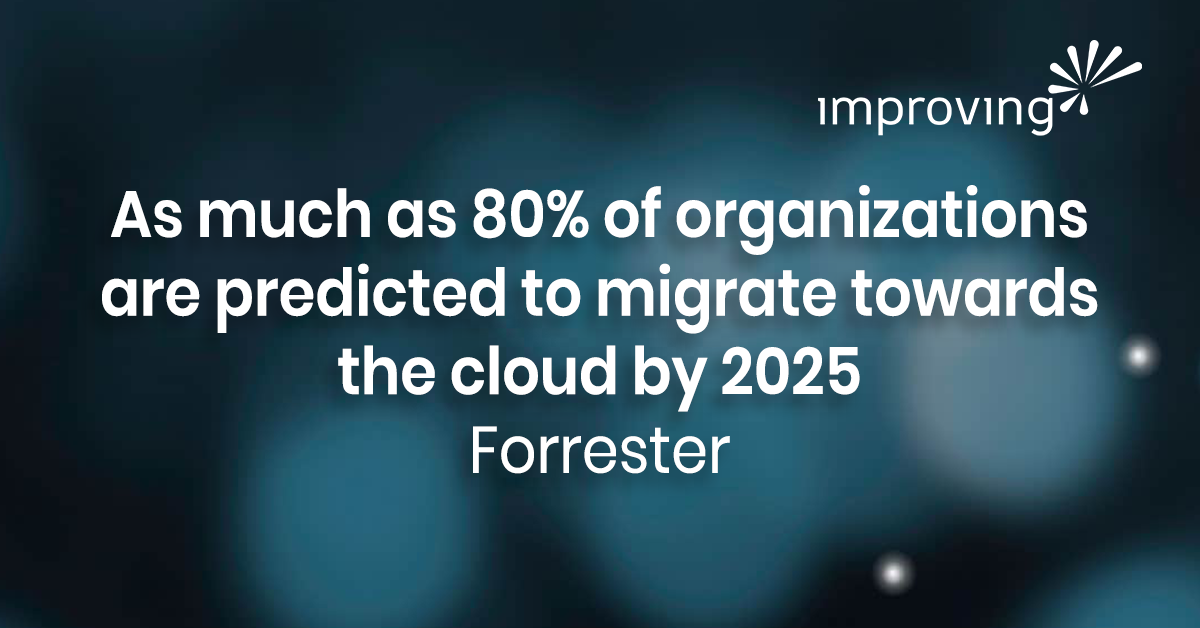 Cloud Success Stories with Amazon Web Services
Amazon Web Services, or AWS for short, is a cloud platform provided by Amazon, hosting infrastructure for anything from start-ups to enterprise businesses to government agencies. They provide the latest innovations in technology, like machine learning, artificial intelligence, computer vision, and an enormous suite of other services to help advance any and all businesses.
But what about the cloud success stories? What established companies have exploited AWS to give themselves a major edge in the business world?
1. SimScale
SimScale is a computer-aided engineering software product that provides simulation tools to over 100,00 users. They allow these thousands of users to run more simulations than traditional local computer-based systems, and in turn they iterate more design changes as a result.
The start-up was founded as a solution to the high costs of using simulation as part of the design process, giving product designers the opportunity to simulate in an affordable way and make better informed decisions.
SimScale was built by 5 co-founders who were still students at the time, and as it tends to be with students, they had a very limited budget to work with. They decided to launch the platform in the cloud through Amazon Web Services. Deciding to run the business in the AWS Cloud from day one allowed SimScale to be the first simulation product to market, enjoying considerable growth ever since.
SimScale co-founders recognize that they've been able to set up a simulation environment in an extremely cost-efficient way. Had they used their own hardware, they would have required a complete team of people to run their system. Instead, they now only employ a few DevOps engineers to look after the AWS Cloud infrastructure.
Using AWS has saved them thousands in hardware, personnel costs, and IT maintenance. The result is now hundreds of thousands of users running simulations efficiently to improve the design of their products.
2. Airbnb
Airbnb is an online marketplace and hospitality service company that allows property owners and travelers to connect with the purpose of renting unique vacation spaces around the world. Based in San Francisco, California, Airbnb doesn't own any of the properties listed on their services. It simply acts as a broker, receiving commissions from each booking.
The idea for the company was conceived after its founders placed a mattress in their apartment living room and renting said space as a bed-and-breakfast. A year after Airbnb was launched, the company decided to migrate nearly all of its cloud computing functions to AWS due to service issues with their original provider.
AWS gave them the possibility to ramp up more servers without having to contact or go through anybody and without committing to a certain minimum usage. The provided leniency accelerated Airbnb's growth exponentially without any setbacks. Not only that, but the entire database migration to Amazon RDS was completed with only requiring 15 minutes of platform downtime.
3. Nextdoor
Nextdoor is a private social networking service for neighborhoods based in San Francisco. It allows its members to connect and communicate about relevant issues in their communities, such as news, events, local service-provider recommendations, warnings about suspicious activity, and so on so forth.
Nextdoor currently uses AWS to develop and launch new features and products on demand with just a single click, immediately improving user performance without the need of any engineering work. For Nextdoor, their IT priority is to have a fast and solid platform that can support their users effectively and efficiently, since the occasions may rise that they need to message their neighbors urgently in times of crisis. Therefore, they need flexibility to scale up and meet their growing customers demands.
4. Flatiron Health
Flatiron Health is a healthcare technology and services company that focuses on accelerating cancer research and improving patient care. This is facilitated by hosting a platform that allows cancer researchers and care providers to share relevant information and learn from the specific experience of every patient.
Flatiron was founded after its creators experienced the painful journey of cancer through close family and friends. Through these experiences, they realized there was no easy way to access useful data of previous cancer patients in the U.S. Flatiron was conceived as a solution to ensure that researchers and doctors were able to collaborate by connecting cancer centers across the United States, allowing them to share what they have learned from every patient's experience with the disease.
The benefits the company enjoys through AWS include the improvement of cancer data quality across the U.S. and speedy development of oncology-data software. Flatiron collaborates with over 260 oncology practices, large academic research institutions, and other healthcare organizations, which currently use the company's cloud-based system to manage their daily workflows and analyze more than 1.6 million cancer patients.
All of this happens while also ensuring HIPAA compliance and other healthcare-industry regulations by running on the AWS Cloud. Leveraging the cloud gives Flatiron professionals the time they need to concentrate on developing better software for oncology practices, provide organized cancer data to researchers quicker, and ultimately accelerate the fight against cancer.
5.

Worldline
Worldline formerly Bambora, is a Swedish company that provides card acquiring, payment processing, infrastructure, and additional services to businesses of all sizes, enabling offline and online sellers to accept debit and credit card payments.
Founded in 2015, Worldline now has over 700 employees and operates in more than 65 countries. Because of this rapid growth, Worldline needed a heavily secured IT system that could scale quickly on a global level and efficiently meet legislations on all the countries it operates in.
By utilizing AWS to host many of its platforms, the company is able to enter new markets in an average of three months, which is far quicker than the industry average. This is precisely because they don't need hardware to function. Some other benefits of implementing cloud solutions include:
Scaling easily to match the business' multimillion dollar growth in just two years
Launching new features to market in three months instead of twelve, which is the current industry average
Quickly setting up compliant environments in any country
Cloud Success Stories with Microsoft Azure
Microsoft Azure is not altogether different from AWS, providing cloud computing infrastructure for a variety of business sizes. Designed for compatibility with any industry, it distinguishes itself from its competition by being the only hybrid cloud service on the market. It's committed to open source software, enabling businesses to effectively develop from anywhere by any means.
1. DriveTime
DriveTime is a used car retailer and finance company based in Tempe, Arizona. The retailing process is as follows: DriveTime buys used cars at different auctions, then puts the purchased cars through a 14-day inspection at one of its 24 inspection centers to make any necessary repairs before sending the vehicles to its dealerships.
In order to deliver the best possible value to customers, the company used to send its 65 buyers yearly to physically inspect and acquire thousands of cars at public auctions all across the country. Said buyers relied on their knowledge from years of experience, keeping track of the whole process on paper. After years of doing things the old way, DriveTime decided to automate their manual, intuition-based auction and purchasing process by building an app through Microsoft Azure cloud database services.
With the Online Buyer app, the buyers now connect from their computers to a live-video feed and review every car, in up to four auctions at once, instead of traveling to just one auction and walking lanes of cars. This allows DirveTime to acquire 3x more vehicles than they could before with the obsolete manual process. The company inspectors can now save time and actually transform their knowledge into an accurate and repeatable purchase process.
2. Wineshipping
Wineshipping is a wine shipment company founded in Napa, California, over 30 years ago. Wineshipping currently manages nine facilities across the U.S. with more than 700 wineries available as providers. Wine bottle shipping must be done with extreme care that includes temperature control, special packaging, and breakage insurance.
In order to operate efficiently, Wineshipping must track its customer and operational data tightly. With this in mind, they decided to go for a cloud-based solution with Dynamics 365 to focus more time on running the business and less on managing IT infrastructure and staff.
Through its Dynamics 365 deployment, the company unified its four financial systems into a single platform, helping it meet financial obligations on time, like submitting tax reports to state liquor control boards and federal agencies, while reducing operating costs by 20% and increasing productivity by 30 to 50%.
3. Accenture United States
Accenture United States is a professional services company specializing in strategy, consulting, digital transformation, IT, and operations. 90% of the company's applications and servers have migrated to the cloud, including Microsoft Azure and Microsoft 365, giving employees access to business data no matter where they are, boosting productivity.
To increase security on their cloud apps, Accenture deployed Microsoft Cloud App Security, which provides them with identity and access management tools, mobile device and app management, data protection and security, as well as threat detection and prevention.
4. Devon
Devon is an oil and natural gas exploration and production company based in the U.S. Devon is a data-driven company and must provide said data to the right people in an efficient way. By utilizing Office 365, Devon gives its field workers the ability to access that data immediately from any device, to make a drilling decision, approve purchase orders, or request delivery of materials to a work site, just to name a few examples.
Besides these other benefits provided by Microsoft, the company migrated its line-of-business applications and disaster recovery operations to the cloud with Microsoft Azure. This move allowed the company to rapidly deploy applications and scale accordingly in a cost-efficient manner.
5. San Diego County Office of Emergency Services
The San Diego County Office of Emergency Services coordinates the county's response to disasters, and is the designated organization that San Diego residents turn to when they need up-to-date information during said disasters, such as floods, wildfires, earthquakes, and so on. The OES is also responsible for notifying and coordinating all agencies when a disaster strikes, ensuring all needed resources are available and mobilized efficiently, and developing recovery procedures.
To efficiently serve the whole community, the OES developed a cloud-based portal, having the ability to send notifications to San Diego residents on their mobile devices, with information also being available in Spanish and formats for blind or deaf citizens.
During disasters prior to deployment to a cloud-based platform, the county's on-premises servers could not handle the huge flood of visitors to their official website, resulting in the site crashing. That experience led them to look for a better web hosting solution, which made them turn to the Microsoft Azure cloud platform, reducing their costs by 78%.
With these improvements and updates in place, the OES agency is now meeting its goal of efficiently serving more county residents during times of crisis by providing real information in real time with push notifications, allowing them to make the right decisions that will help ensure their safety.
The Leap of Faith
Older web hosting services are becoming noticeably obsolete as cloud computing service models gain popularity. The cloud success stories we listed are only a few of thousands of thriving businesses that have made the transition. The earlier your organization makes the shift, the more efficient you'll find the future to be.
The transition, however, isn't guaranteed to be easy. That's why we at Improving Nearshore are more than happy to provide you with the help you need to get there. Our Cloud Innovation Center prides itself on its competencies for rendering the assistance needed to make the full transition to AWS or Azure, manage or leverage your existing cloud resources, assess your network infrastructure, and more.
Take the leap of faith and stop on by our Cloud Innovation Center to learn more about how you can migrate your organization to the cloud.