Last August 5th, the South of the Border Lunch took place in Phoenix, Arizona. The event was held by the Arizona International Growth Group (AZIGG) where iTexico's CEO, Anurag Kumar was present as a speaker to share his experience of having a delivery center in Guadalajara, Mexico.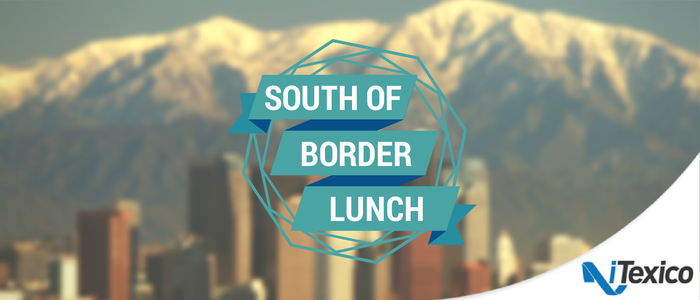 The AZIGG's purpose is to continue the stream of international business presentation for Arizona-based companies looking to grow globally. Therefore, the lunch was a great opportunity for Arizona leaders who wanted to grow and network with the international business community.
Why Phoenix? Well, according to Phoenix Business Magazine, Mexico has been Arizona's top trading partner with billions of exports from the state to Mexico, just in 2012. Another fact is that Mexican sources are responsible for more than $420 million in direct foreign investments in Arizona since 2007.
Cross-border trade is a commonly used term by the AZIGG within its events, articles and media; which is the main activity that promotes: buying and selling of goods and services between businesses in neighboring countries. I could say that nearshore is the outsourcing version of the cross-border trade. This time, there was also a focus on the subject.
The Lunch
The South of Border Lunch took place at Macayo's Restaurant in Phoenix from 11:00 AM to 1:00 PM (MST) featuring an all-you-can-eat buffet and an opportunity to listen to experts.
It was an opportunity to join and gather with high-level professionals, government leaders and experts in international growth to hear their success stories and learn how to take the most from the opportunities across the border, especially the south of the US.
The speakers panel was composed by government representatives including Roberto Rodriguez, Mexico's General Counsel; Consul General of Honduras, Tony Banegas and Former Mayor of Tempe, Hugh Hallman.
Mexico Consul General Roberto Rodriguez Hernandez and Honduras Consul Tony Banegas at AZIGG today @GlobalChamber pic.twitter.com/VJk2NQbGed

— Arizona Global (@AZIGG) August 6, 2014
Mexico Consul Rodriguez talked about the possibilities and opportunities in Mexico, while former Tempe Mayor Hugh Hallman aboard the cross-border business model for more global initiatives. Both speakers had the same purpose, to create awareness on how partner countries can leverage business through international business.
On the business side, attendees had the chance to hear strategies and stories from Roberto Moreno, GM at Collectron and Anurag Kumar, CEO of iTexico. Both companies have business between Mexico and the US, manufacturing and software development, respectively. However only iTexico has its HQ based in the US.
Global business experts speaking at AZIGG today: Anu Kumar @iTexico and AZ Treasurer Candidate @hughhallman #arizona pic.twitter.com/OmeWvTxQCd

— Arizona Global (@AZIGG) August 6, 2014
The advantage of having speakers from private businesses and the government sector is that that they provided an update on the current situation with the bordering countries and even share their real experience of how it has been to work between US and Mexico.
An example is how the tech industry in Mexico is growing exponentially since the government is investing a lot in infrastructure, education, and capacitation.
Another important subject was the tech industry growth in Mexico, where Anurag Kumar steps up and talked about the government participation to invest in the technology sector. Nearshore outsourcing is becoming more and more common for IT companies. We can expect to hear a lot from Mexico in the tech industry for the coming years.
About the Author
Alfonso Banuelos is a digital marketer at iTexico, he holds a Bachelor's degree in Marketing and a Diploma in Marketing and Sales Strategies from the University of Guadalajara. He is one of the main voices driving iTexico's Social Media updates and communications.