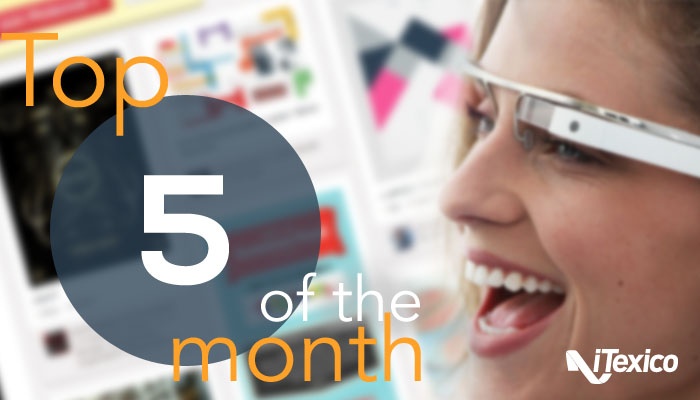 iTexico Top 5 Mobile Development Stories you may have missed ..
As we all know, technology has been evolving at a very fast rate in the last 20 years. This trend will continue to grow exponentially. The constant evolution has changed the lifestyle and consuming behavior of society. We have gladly accepted and look forward to these changes. For example, I just need my mobile phone to now order my favorite coffee from Starbucks.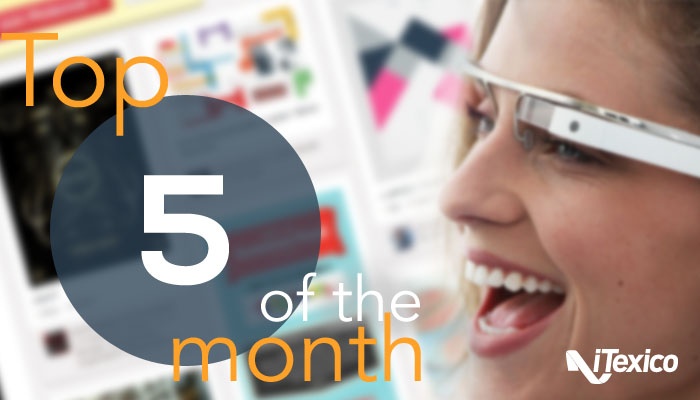 In case you missed the latest news and trends from the last thirty days, here is a top 5 list of the most relevant stories I found on the web, regarding mobile apps and software development.
Top 5 List:
1. First Google Glass YouTube app appears: Wild West development continues.
That's right! The first thing that is constantly on the interwebs is Google's new project: Google Glass. A new initiative that promises to change the way of communication and sharing through you "eyes" Many are excited about this project, and many remains skeptical, probably because it might be perceived as a "downgrade" from the full potential of a smartphone. Whichever the case, it is a fact that we can't wait for the results!
So if you wonder who is making the apps for Google glass, well.. Google is letting developers present their projects to be potentially included within the device (or glass). In this story, we can see how the "Fullscreen BEAM" mobile app allows the user will be able to record video clips and uploaded directly to their YouTube channel and their public twitter account. The video explains what you need to sync your accounts on the Fullscreen web page and that's it! The sharing time from Glass to YouTube and Twitter is very impressive, as matter of seconds. Well, we have to wait to see it in action when Glass is available. Have you gotten your invite yet?
2. Building a Mobile App? 5 Questions to Ask Your Mobile Developer.
Mobile apps are here and everybody wants to use them. It's natural for the companies to evolve according the need of their customers and offer want they need/want. That allows companies to enter to the mobile app marketplace. These companies may or may not have the tools to develop their mobile strategies, so it's very common to request a service from a third party.
This is a great post for the new companies that want to create their own mobile apps. The post discuss very basic, but very important 5 question that they have to ask to their developers, either if they are hiring someone or hiring an outsource service. The questions are:
~ Where are your developers and engineers located?
~ What are the costs of the project, as well as future updates?
~ On what platforms will your mobile app be available — and on what platforms do they have experience designing?
~ How will users be able to download my app?
~ Of the projects that your company has completed previously, which ones are you the most proud of and why?
These are the most basic of questions. These questions help the companies to have a very clear idea of budgets, reach of their mobile app, learn the difference about HTML5 vs Native mobile apps and also understand about cross platform development. In the case they choose and outsource services, they should know about nearshoring and its advantages and budget impacts as well.
3. Infinite Scrolling: Let's Get To The Bottom Of This.
The third story is about a current trend on both mobile and web apps: infinite scrolling. As many new trends appear every year, there's always the need to follow those trends but that doesn't mean that it will work as good for everyone. For example, this great post discuss about how Google has remained with lists instead of changing the searches to infinite scrolling. It explains that for every search only the 6% advance to the second page, which means that users find the top 10 results more relevant, and that's a big deal for Google strategies. If a trend does not apply to your strategies, don't jump into any trend just because it's "cool" or looks nicer.
Another bullet point in the post is an example when the scrolling fails for different popular sites such as Facebook and Pinterest. In Facebook, the footer is unreachable thanks to the infinite scrolling making valuable information to get lost. As for Pinterest, the infinite scrolling succeed on the images but lost the exclusivity and relevance of the picture. You can see millions of images but not the most relevant for the users.
4. Here's A Look At Google Now For iPhone, Your New Siri Replacement
We have Google back again in the spotlight, this time with the new release of Google Now service for the iPhone and iPad.
Google Now is part of the Google search app. It helps you to use the voice command to search, schedule, add notes, look for restaurants, weather, stock quotes, etc. It is more like a voice-controlled assistant. It could be competition to Siri, in a manner of speaing, but Siri's interface still quite bit different.
Here's the official video of Google Now for more info
5. Time For Apple To Buy Developer Love With A 0% Cut?
At number five, we have Apple on the target. Certainly Android has reached the same level of high quality mobile apps on the market as Apple at a rapid pace. In this article, there's a discussion about what's next for Apple to regain the developer loyalty.
It is well known between developers that is a little bit harder and expensive to develop an app for iOS than for Android and adding the 30% cut on revenues is pushing developers to build apps for Android.
Matt Asay explains that Apple revenue coming from the sales of the iPhone alones is outstanding! Not that apps sales are irrelevant, the great and expensive apps that are only available for iOS makes the iPhone to be more attractive. However if Apple starts dropping its share from 30% to 20% or 10%, it won't hurt Apple's revenue profile and it also could a long way toward keeping developer's pockets full and happier. What do you think Apple should do re-establish mobile app developer loyalty?
About the Author
Alfonso Banuelos is a recent Marketing graduate. He is currently working at iTexico as a Marketing Intern. All of us at iTexico wanted to share his perspective about Mobile Development and Marketing. Additionally, he is one of the main voices driving iTexico's Social Media updates.
Oscar Salas is a B2B Digital Marketing Specialist with 5 years of experience, who has helped organizations to grow and expand through strategic brand development and marketing programs. Analytical thinker, cat lover, he enjoys to play the piano and listening to Led Zeppelin He's currently leading the iTexico Demand Gen strategies.