Hosting the right talent for an innovation-driven company is a vital factor for its success. In the web and mobile app development industry, finding the right place to host, train and provide world-class services will always play a major role on growth and corporate culture. Thankfully for us at iTexico, we've found that delivering nearshore software services in Mexico has been highly effective and that there are facilities built to make this task easy.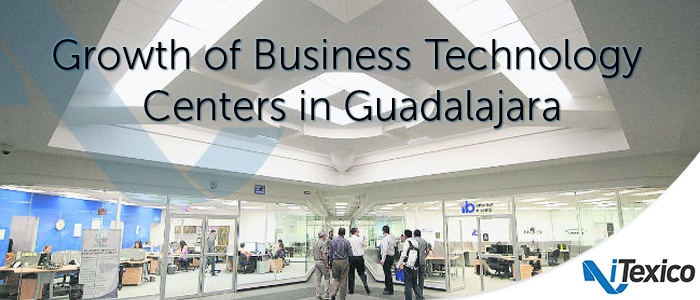 Recently, an article was published in a local newspaper about the high demand between the biggest software business centers in Guadalajara. In this article, iTexico was mentioned as one of the companies that are requiring more space among the startups at the Software Center, one of the most highly-demanded facilities in the Guadalajara region.
As part of the article, a lot of interesting information about how the technology industry is getting bigger and bigger in the city is also mentioned, with companies focused on areas such as gaming and mobile development. The article was originally written by Jorge Velazco for the newspaper Mural. Since the article was originally in Spanish, we took the liberty to translate it to share it with you. We hope you enjoy it.
"The favorite landlord"
by JORGE VELAZCO
Even though creative companies have other alternatives to get to business and develop their products, the Software Center is the one that catches their attention.
And this is because the Chapala Media Park, which could be one option for some companies, is in the process of consolidation, and the Creative Digital City is still far from becoming a reality.
Jacobo González Torres, director of the Jaliscience Institute of Information Technologies (Ijalti), an organization that manages the Software Center, explained that this complex is completely occupied and that there's even a waiting list of more than 15 companies looking to be hosted in it, and they're not coming to the Chapala Media Mark or the Creative Digital City due to the distance or because of it's lack of consolidation.
"We ran short of space when the Software Center's size was designed and we're constantly having to say no to hosting new companies due to the lack of space," he admitted.
One of the companies on the waiting list is iTexico, which is focused on developing web and mobile applications and even though it's been operating in the Software Center for three years, it needs more space due to their growth plans.
"We've been growing at a pace of over 100 percent annually. We started with only eight people and now we're more than 80," said Guillermo Ortega, Co-Founder of iTexico.
The Chapala Media Park is not an option for all creative companies, since it's focused on multimedia production, like movies, commercials and television series. Even though it has the best-equipped forum in Latin America, at the moment it's an unused building.
This building, also operated by Ijalti, is located in Chapala and is 30 percent occupied. It's forum got less than 100 days of usage in 2013, even though for this year it's expected to be more than 180 days of occupation due to several upcoming productions. "Chapala Media Park is in the process of creating talent and reaching critical mass towards its way and it will definitely take off in its due course," said González Torres.
The other big bet is on the Digital Creative City.
This project will be developed within the area of the Morelos Park and was announced since January of 2012. Although until today it only has Kaxan Media Group, producer of the video games, Taco Master, and soon it could be hosting an Irish company.
Local authorities trust that the Creative City complex will attract 30 billion dollars in investment and will generate 20 thousand jobs within the next ten years.
For Yoanpablo Pérez Anaya, general manager of Gyroscopik Studios, the arrival of more companies to the Creative City will depend on the advantages the projects offers to them.
"The only way to switch over to the Digital Creative City is to have bigger benefits than the ones we currently have where we are, whether it is in support for projects, subsidies for office expenses, accessibility or technology… something!" he said.
Alejandro Varela, film and commercial producer, also agreed with this.
"At the moment, since the project is still under development, no one besides Kaxan has thought about moving, However, with the spirit of supporting the project, when the facilities are finished then we will be able to participate", he pointed out.