The domain of the typical corporate Chief Information Officer has changed dramatically.

For those of you who have been at the CIO bit for awhile, you have watched as acres of file cabinets have been replaced by racks of on-site servers, and now with a single connection to the cloud.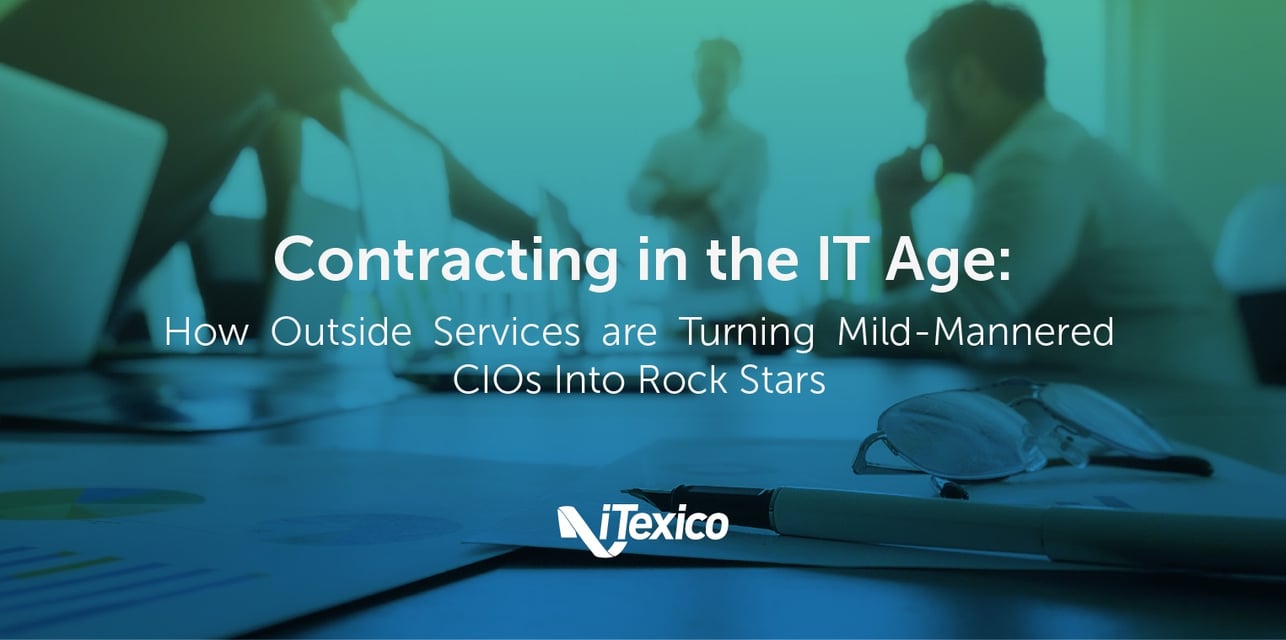 Rows and rows of cubicles are now vacant, as today's connected employee is working with mobility from anywhere connectivity is present.

And digital forces are making your company's competitive landscape speed by, as if in a bullet train. Today, according to a recent Garter survey, 37 percent of most companies are deriving their revenues digitally. And that same survey of nearly 3,000 CIOs found that your colleagues expect 77 percent of their processes to be digitized in the near future – up from 42 percent today.

But you – you're a savvy CIO. You know that your role – far from becoming obsolete in a world of third-party cloud services and offshore resources – is about to get juiced up.

That's because not only will your intervention be relevant in conducting these resources, competitive pressures and digital newness into a well-oiled machine, but you are also willing to embrace the contractor's role in helping to elevate your status from mild-mannered to rock star.
A recent article by Steve Hays in CIO magazine promoted five ways that contractors can help today's CIO survive – and thrive – a digital transformation at their company. "As an IT leader," writes Hays, "a huge part of the buck will stop with you."

Here are those five ways, according to Hays:

1. Contractors will help you plug the skills gap
"Most astute CIOs," says Hays, "will be all too aware that their businesses are lacking some of the key skills needed to digitally transform their businesses. Particularly, he writes, in the area of cyber security – which most CIOs recognize can be a sink-or-swim proposition. Contractors – with their myriad experiences in a variety of industries, and their experience in managing digital transformations for other enterprises– can be a great way to onboard the necessary skills quickly, with a greatly reduced learning curve.

Writes Hays: "Contractors will inherently have a high level of business acumen due to their wide-ranging experience, and will help your existing team become more commercially-minded – a key skill which our IT workforces of the future will need."


2. Contractors can help upskill your existing teams
A contractor's skills – like the common cold – can spread like wildfire in your company's ecosystem. Their prowess becomes infectious – promoting the upskilling of your existing IT workforce, and exposing your teams to new skills and perspectives.

"You will find your permanent workforce will be transformed along the journey and be reenergized far more than they would be if they were sent on a sterile training course," says Hays.

3. Contractors can give you flexibility
You need to transform now – and going through the usual rigamarole of vetting, hiring, and – perish the thought – training and then having to replace engineering resources can stop you in your tracks. Contractors are the "ideal flexible resource to help you deliver these projects on time and in budget," writes Hays.

Not only can contractors be added to your team at a moment's notice, but they are condition to hit the ground running with agility, and can adapt to pressures as they are dished out. And, of course, when the project is complete, it's just as easy to release the resource without headaches or the emotional baggage that comes with terminating W-2 headcount.

4. Contractors can help you manage resistance to change
Change can be good – but it can sometimes be difficult to convince the troops of this. Overcoming resistance will be essential in ensuring your digital transformation is executed with silky-smooth efficiency. Hays noted that a huge proportion of CIOs feel like they're having to jump hurdles to achieve their transformative visions. "Contractors," writes Hays, "can help CIOs address this resistance at a grass roots level as they work with the people affected by and working towards a digital transformation."

5. Contractors can help you drive forward your digital agenda
Though your engineering team members are the subject matter experts on your company and business, they may have had blinders on when it comes to the latest and greatest to hit the IT scene. Writes Hays: "In order to stay relevant and to ensure their long-term contracting success, contractors simply have to be ahead of the trends and are familiar with upcoming technologies – and they will bring that experience to your organization."

Are you ready for a digital transformation at your company? We here at iTexico would love to help with nearshore innovative solutions. Reach out today to see if our company – and our contracting team – can get you on the road to CIO rock stardom!